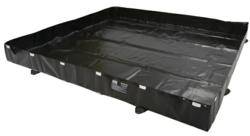 Meridian, ID (PRWEB) July 05, 2012
Price comparisons offer little in the way of actual assessment between products. Spill berms may look alike, however on deeper scrutiny, all the similarity erodes. This quick guide from AIRE Industrial will help when making purchasing decisions between models.
When purchasing a spill berm, leak avoidance is the main goal. So the first question needs to be what kind of liquid is going to be contained? This answer is going to be crucial when it comes time to consider the fabric for the spill containment job. Suppose the job entails the containment of oil from a transfer procedure. A fabric, such as Seamans XR-5 will sustain fuel containment for years compared to an uncoated fabric like polyethylene, usually called PE. PE is principally installed as pond liners, however is used in inexpensive containment devices. Spill berms manufactured out of PE should be for single use projects. PE is does not provide sustained protection and becomes fragile in particular incidences. PE berms cost much less, and will hold up for a short period time depending on weather conditions.
A better choice of fabric for short-term spill containment is PVC. Chemical resistance is good; it provides decent oil opposition and will stand up to the elements for at least a year or two if conditions are not harsh. A pallet storage unit is an excellent illustration of a PVC containment berm task. PVC is very susceptible to hydrocarbons and the fabric will become increasingly brittle and prone to cracking. Rips and punctures can be a concern if there is going to be continuous driving over the PVC spill containment berm. The fabric was not intended to hold up to chemicals having constant contact with it nor heavy-duty abuse via the wear and tear of vehicles rolling in and out. PVC is an option if the application involves light duty and low traffic in and out of the berm.
Projects that require heavy-duty chemical containment will need a fabric that is intended to contain spills of highly volatile compounds. Seamans XR-5 fabrics provide the most comprehensive chemical resistance in the industry. Depending on the needs of the venture, this fabric provides exceptional tear and puncture resistance. If the task calls for intense scuffing such as multiple drive overs, then, XR-5 can be a great pick. The fabric has a proven 25 + year record of capability and is installed thought the world. It has advanced chemical and fuel opposition as well as the capability to stand up to climate changes from extreme heat to bitter cold.
What other important considerations are there?
All spill berms have sides that are intended to keep spill from reaching the ground, so what are the mechanisms involved in that and why does it matter? Most berms use stays to keep the sides erect. Some stays are made out of aluminum, some out of plastic, and some from the berm fabric. Each has its own merits and costs. Look to see if the berm being compared has stays made out of the same material when doing price comparisons between models.
Some berms have sides that can be driven over without having to lower or raise the stays; these berms utilize non-memory foam to achieve the goal. Drive over berms serve a specific purpose for multiple uses and deployments. Many in the oil and gas industry, as well as the commercial wash down profession choose to purchase these spill berms for the field. Will the project require driving over the berm? If so, make sure the berm walls can be driven over, or will lay flat to facilitate the process. To attain the best value vs use of the investment, ensure the wall stays are either mounted inside the wall or mounted within the wall itself. Stays mounted on the inside of the berm will waste available space and cause tripping hazards.
Other considerations concern where the berm is being placed. Rocky terrain? Then maybe a ground pad is warranted. Need extra protection for driving over the berm? Then possibly track mats inside the berm would be a good addition. Workers in the berm need anti slip protection? Then ask for the slip guard option. Will the berm need to filter the contents? There is a Bazooka filter for that.
For more information about spill berms contact AIRE Industrial at 2021 E Wilson Lane, Meridian, Id, by phone at 800-247-3846 or via the Web site at http://www.aireindustrial.net
ABOUT AIRE INDUSTRIAL-
AIRE Industrial is a manufacturer direct to the public online spill containment store that produces spill berms, water storage tanks, fuel bladders, wastewater bladder tanks, and supplies spill containment equipment, located in Meridian, Id. AIRE Industrial has offices in Idaho, Washington, North Dakota, and partners in Europe, Asia, North Africa, New Zealand, The Middle East and South America.