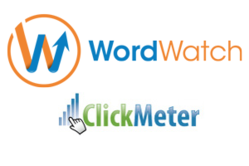 San Jose, California (PRWEB) July 05, 2012
Search engine marketing automators, WordWatch, have officially announced a partnership with ClickMeter today. The Italy-based real-time analytics company was founded in 2009 as a spinoff of their own web-based marketing agency, created to help them track their customers. With tools to track social media, click-fraud, and conversions, ClickMeter is a scalable solution for all websites, from a small blogs to worldwide companies.
"I'm particularly happy this partnership worked out for us, because we're all very aware of how important taking visitor information is, and making it actionable. Internet marketing isn't limited to one particular method, and this partnership should help both our clients get access to tools that can improve their campaign performance immediately," Trace Ronning, media coordinator and partnership manager for WordWatch, said.
About WordWatch:
Founded in 2009, WordWatch is an online AdWords bid management application designed for small business advertisers, marketing consultants and freelancers, and small agencies. The application simplifies the daily management of keyword bids and constantly optimizes a customer's AdWords account. WordWatch has offices in San Jose, Amsterdam and Krakow.
Related Links
http://www.wordwatch.com
http://www.clickmeter.com