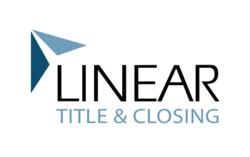 Every license is an important asset
Middletown, RI (PRWEB) July 05, 2012
Linear Title & Closing, Ltd, a leading provider of Title & Closing Services for Lenders, today announced that its wholly owned subsidiary, Linear Title Agency, has been awarded an Escrow License from the state of Arizona.
Nick Liuzza, President of Linear Title and Closing said, "As we continue to solidify our position as a leading national provider of title and closing services, every license in every state is important and is a valuable building block for our future".
Linear Title & Closing Ltd. is a recognized industry leader that delivers technology driven settlement solutions and provides targeted products to lenders, which increase origination and ensure compliance. Linear Title & Closing is based in Middletown, Rhode Island, with offices in Texas, Nevada and California. Linear conducts business in every state nationwide. http://www.lineartitle.com.