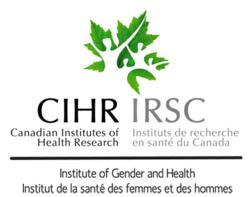 (PRWEB) July 05, 2012
Registration for the international conference Advancing Excellence in Gender, Sex and Health Research is now live at http://www.genderandhealthconference.com.
The conference, hosted by the CIHR Institute of Gender and Health (IGH), will explore advances in our understandings of how sex and gender influence the health of women, men, and people of diverse gender identities over the lifespan. It will showcase excellence across the full scope of health research, from cell to society, offering a unique opportunity for interdisciplinary learning and exchange. The conference will feature dynamic presentations on new discoveries and innovative interventions, interactive poster sessions, lively discussions and valuable networking opportunities with leaders in the field.
Details about the exciting line-up of keynote speakers, including world-renowned gender theorist Dr. Raewyn Connell, and the conference program are now available: http://www.genderandhealthconference.com/index.html.
Satellite Training Opportunity! In conjunction with the conference IGH is holding a one-day Fall Institute for trainees. The Fall Institute will provide training and educational opportunities for graduate students and post-doctoral fellows in the field of gender, sex and health research. Application deadline is July 13, 2012. For more details, please visit: http://www.genderandhealthconference.com/workshop.html.
For more information please contact
Conference Secretariat
1 800 563 6252 or 1 604 689 3446 ext 433
IGH2012(at)pr1me(dot)ca