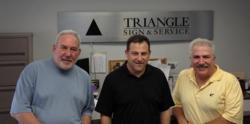 "Vantage LED's support, pricing and quality have impressed us. The fact that Vantage LED is an American-made product has also been a factor in our decision to partner."
-- Steve Altshuler, President of Triangle Sign & Service
Baltimore, MD (PRWEB) July 16, 2012
Triangle Sign & Service has joined the growing team of strategic partners throughout the USA at Vantage LED, who are working to stay at the forefront of LED sign technology and innovation. Owned by Sinclair Broadcasting, a publicly traded company on the NYSE, Triangle Sign & Service has joined Vantage LED's Partner Program to help grow Digital Signage locally in the Baltimore, MD area as well as nationally. With this move, Triangle Sign & Service continues a legacy which has been in place since their inception in 1931. Triangle Sign & Service was founded by a team of experienced engineers and retailers who saw an opportunity to be leaders in the growing signage industry in Baltimore, MD.
Major changes have occurred since the founding in 1931. Triangle was always considered a large sign company in Baltimore. MD, but in the 1970s, management determined that being strictly involved in Baltimore would be a long term mistake. A decision was made to go after a national retail market, specifically the high end retailer who wanted a quality product. Major retailers opened multiple stores every year, but each store was unique requiring a change from mass production models to a more custom detail of design and construction.
"We have seen substantial changes in the sign industry including computerized LEDs and advanced equipment. Triangle has always strived to be at the forefront of all new developments." states Steve Altshuler, President of Triangle Sign & Service
When asked about their goals for the future Mr. Altshuler stated, "Our sign roadmap includes paying attention to our customer needs, attracting new high end customers, keeping abreast of all changes in the sign industry, expansion of our LED and EMC business, continued growth to our national service business, and attraction of new and highly qualified employees to spearhead this growth."
Triangle Sign & Service has done considerable research on the LED sign industry, and feel comfortable with the Vantage LED partnership. Mr. Altshuler stated, "Vantage LED's support, pricing and quality have impressed us. The fact that Vantage LED is an American-made product has also been a factor in our decision to partner. For these reasons we look forward to substantial growth in the future in the EMC market with Vantage LED."
With the latest installation of Fence & Deck Direct, Triangle Sign & Service has had their initial feelings affirmed. Vantage LED had one of its technical specialists, Deacon Wardlow, on-site to ensure the installation went smoothly. The team at Triangle Sign & Service were impressed with how quickly the sign arrived and how it ran beautifully the moment it was powered up.
Vantage LED is the fastest growing U.S. based manufacturer of superior LED signage. Supporting a competitive and successful dealer network in both the United States and internationally, Vantage LED has risen to be a formidable contender and loyal partner. The success and solid growth of Vantage LED is due to its unique ability to produce a highly reliable, technologically advanced product at a competitive price from its state-of-the-art Southern California manufacturing facility. For more information on Vantage LED or its superior product line please visit their website at http://www.VantageLED.com.
Vantage LED is a subsidiary of Tradenet Enterprises, LLC, a California based company with headquarters in Corona. For new Dealer information, please contact Josie Salitrero, National Sales Manager at (888) 595.3959 or Dealers(at)VantageLED(dot)com.
Vantage LED Signs
370 Meyer Circle Suite 102, Corona, CA 92879
Phone (888) 595.3956 – Fax (888) 595.3959