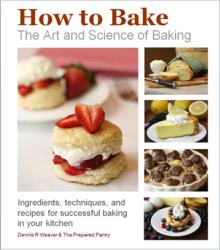 Home bakers who read this book will learn the secrets of the pros.
Rigby, ID (PRWEB) July 05, 2012
A newly updated and illustrated 318-page edition of the free baking book How to Bake: The Art and Science of Baking has just been released by the Prepared Pantry; a family-owned retail baking business located in Rigby, Idaho. For ten years, the Prepared Pantry has provided customers with digital books, baking mixes, kitchen tools, baking ingredients, and gourmet foods. This, combined with experience working in the baking industry and bake shops, has made them baking experts. In How to Bake, they are now sharing all those accumulated years of practical knowledge and time-tested techniques. Home bakers who read this book will learn the secrets of the pros and gain access to the information taught in culinary schools at no charge. Before long, dedicated readers of How to Bake will also become experts.
This book answers some of the most debated baking questions, such as which leavener is best for muffins, what the most reliable way is for telling if a loaf of bread is fully baked, and how to prevent fruit pie crusts from going soggy. In eight chapters, readers are taken through the major categories of baking ingredients, the descriptions of how they work, and explanations on the techniques for using them in home baking. Plus, readers can enjoy trying out proven recipes with illustrations. Take a sneak peak and see what you will learn. You'll find the book very readable and very well organized. It's a great reference to keep in your kitchen.
"The stores are full of cookbooks, but we could find nothing for the home baker that really explains how baking works and teaches how to bake," explains Dennis Weaver, author of How to Bake and CEO of the Prepared Pantry. "This book does that. We don't think there is a comparable book in print . . . [In this third edition], the information is updated and more recipes and images are included. In addition, links have been added to resource materials on our site where you can learn more . . . We're dedicated to successful home baking and wanted to offer the book for free."
The book is totally free of charge. Get your book now by simply following this link: https://www.preparedpantry.com/index.html or see what reviewers have to say.
Don't expect a normal cookbook when you crack open this book—it's much more educational and acts as a great reference book for baking. Instead of just giving you test kitchen-approved recipes, the book explains the science behind the "why's" of baking.
You can download this 318-page book now at no cost and read it in a variety of formats, including Kindle, Nook, Word document, and PDF.