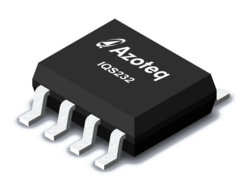 Austin, TX (PRWEB) July 06, 2012
Azoteq, the world leader in capacitive proximity solutions, today announced the release to market of the IQS232. The IQS232 is Azoteq's latest addition to the ProxSense® family of capacitive proximity and touch controllers. The IQS232 makes it very easy to add proximity and touch keys to an existing design since the device is stand-alone and no driver software is required. The power consumption is only 3.5 microampere, which is up to 100 times better than competitive devices.
The IQS232 uses advanced analog and digital circuitry to achieve unparalleled proximity and touch performance. The high sensitivity enables the IQS232 to work reliably through glass up to 25 mm thick and achieves proximity detection up to 250 mm. The device can operate from 1.8 to 3.6V and achieves power consumption as low as 3.5 microampere while still sensing proximity and touch. The IQS232 can also be used in I2C mode that allows for full control of the sensor functions from a host controller.
The IQS232 is Azoteq's fourth device in the 1.8V ProxSense family with more controllers to follow in Q3 and Q4 of 2012. The expanding feature sets include stand-alone devices, self- and mutual capacitive sensors and lower cost single-channel devices in small packages.
Features:

2-channel input device
Proximity and touch on each channel
Stand alone or I2C interface
Automatic tuning to optimum sensitivity
Supply voltage 1.8V to 3.6V
Multiple low-power modes
Internal voltage regulator and reference capacitor
Large proximity-detection range
Automatic drift compensation
SOP-8 package
Applications:
Consumer electronics – TVs, Blu-Ray players, set-top boxes
White goods and appliances
Office equipment, educational toys
Proximity detection that enables activation of backlighting
Wake-up from standby applications
Replacement for electromechanical switches
GUI trigger and GUI control proximity detection
Pricing and availability
The IQS232 will be priced at $0.30 in 1K quantities. Samples and production are available now from Mouser (http://www.mouser.com/azoteq). More information on the IQS232 can be obtained at http://www.azoteq.com/iqs232.
About Azoteq (Pty) Ltd
Azoteq (http://www.azoteq.com) is the world leader in capacitive proximity solutions for switches, sliders, scroll wheels and touch screens in consumer and industrial applications. Azoteq has design and manufacturing centers in South Africa and China. Azoteq has sales offices and distributors in South Africa, Asia, Europe and the USA.
IQ Switch®, ProxSense®, LightSenseTM, AirButton®, DYCALTM are trademarks of Azoteq (Pty) Ltd.
Editorial contact and interviews:
Kobus Marneweck
+1-512-538-1995 __title__ Azoteq Home Page ]