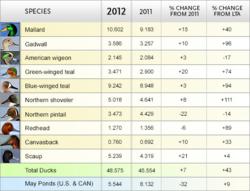 Strong returning duck populations and late spring precipitation have brightened prospects for 2012 duck production. If nesting and brood-rearing conditions are favorable over the next few months, we could see another strong fall flight.
Memphis, TN (PRWEB) July 03, 2012
The U.S. Fish and Wildlife Service (FWS) released its preliminary report today on breeding ducks and habitats, based on surveys conducted in May and early June. Total populations were estimated at 48.6 million breeding ducks in the surveyed area. This estimate represents a 7 percent increase over last year's estimate of 45.6 million birds, and is 43 percent above the 1955-2010 long-term average. This year's estimate is a record high and is only the sixth time in the survey's history that the total duck population exceeded 40 million.
"Early indications were that the mild and dry conditions experienced across North America this past fall and winter would negatively impact spring pond conditions and allow increases in grassland conversion rates, ultimately impacting nesting efforts this season," said Ducks Unlimited Chief Scientist Dale Humburg. "Strong returning duck populations and late spring precipitation have brightened prospects for 2012 duck production. If nesting and brood-rearing conditions are favorable over the next few months, we could see another strong fall flight."
Habitat conditions observed across the U.S. and Canadian survey areas during the 2012 Waterfowl Breeding Population and Habitat Survey were characterized by average to below-average moisture, especially in the southern portions. Significant decreases in wetland numbers and conditions occurred on the U.S. prairies in 2012. The estimate of ponds for the north-central United States was 1.7 million, 49 percent below the 2011 estimate of 3.2 million and similar to the long-term average. Nearly all of the north-central U.S. habitat was rated as good to excellent in 2011; however, only the habitat in the Coteau region of North and South Dakota was rated as good in 2012, and no areas were rated as excellent habitat this year. Drastic wetland declines in western South Dakota and Montana resulted in mostly poor-to-fair habitat conditions.
Conditions in most portions of the Canadian prairies declined as well. Residual moisture from prior years ensured retention of permanent wetlands on the Missouri Coteau in Saskatchewan and near the Saskatchewan and Manitoba border, but temporary wetlands retained little moisture due to a shallow frost seal and below-average precipitation. The 2012 estimate of ponds in Prairie Canada was 3.9 million. This was 21 percent below last year's estimate and 13 percent above the 1961- 2011 average.
Total pond counts for the United States and Canada combined showed 5.5 million ponds, a 32 percent decrease from last year's estimate and 9 percent above the long-term average. This was the first time since 2008 that ponds dropped below 6 million.
Of the 10 species traditionally reported, nine were similar to or increased in number from 2011. Two species (northern pintail and American wigeon) remained below their long-term average. Mallards, northern shovelers, blue-winged teal and scaup were bright spots on this year's survey. For the first time since 1999, mallard populations have exceeded 10 million. Northern shovelers and bluewings again reached record highs (5.0 and 9.2 million, respectively). Scaup numbers showed improvement and are above 5 million for the first time since 1991, but still remain below the North American Waterfowl Management Plan (NAWMP) population goal. Only three species—northern pintail, American wigeon and scaup—remain below NAWMP goals.
"This year I am reminded again of the dynamic nature of wetland cycles and what happens when several years of strong production line up with the possible beginnings of a drought cycle," Humburg said.
"As good as the population news is this week, waterfowl and wetland habitats continue to face significant long-term threats. The Farm Bill and North American Wetlands Conservation Act are up for renewal by Congress this year and both are crucial to our ability to conserve this critical habitat. We are also fighting to increase our investment in wetlands conservation by raising the price of the federal duck stamp," said DU CEO Dale Hall. "Conservation is indeed at a crossroads this year."
Nesting habitat across the Prairie Pothole Region continues to decline, particularly following the mild, dry winter. In many places in Canada, the mild conditions allowed farmers to tile and return shallow wetlands to production. On the U.S. side of the border, expiring Conservation Reserve Program contracts, high commodity prices and other economic factors are not only pressuring wetland drainage, but also pushing conversions of grasslands to cropland.
A recent report from North Dakota Game and Fish noted nesting cover in the state continues to decline. During their survey, biologists noted many large tracts of grassland and CRP land had been converted to cropland since last year. CRP acres in North Dakota alone have dropped to about 2.3 million acres, which is down about 30 percent since 2007. Projections are that more than 650,000 acres will be lost in 2012, and an additional 1.1 million acres will be lost in 2013-14. The loss of this critical nesting cover will be disastrous for breeding ducks, other nesting birds and hunting opportunities in the future.
As always, fall weather and habitat conditions along migration routes will have a big impact on migration chronology and local hunting success. "Severe drought in some important wintering regions adds a bit more uncertainty about prospects for the fall. However, I am encouraged by the number of breeding ducks surveyed this year, and hopeful production will be at least average," Humburg said. "As a waterfowl hunter, I am always optimistic. As a waterfowl biologist, I am realistic but committed to the conservation challenges ahead."
The FWS spring surveys provide the scientific basis for many management programs across the continent, including the setting of hunting regulations. The four flyway councils will meet in late July to recommend and adopt the season structure and bag limits for 2012-13. Individual states will make their specific selections within a federal framework of season length, bag limit and outside dates. Hunters should check their states' rules for final dates.
View all the data and get a species-by-species breakdown at http://www.ducks.org/survey.
Ducks Unlimited is the world's largest nonprofit organization dedicated to conserving North America's continually disappearing waterfowl habitats. Established in 1937, DU is celebrating its 75th anniversary this year, with special events, projects and promotions across the continent. Ducks Unlimited has conserved more than 12 million acres thanks to contributions from more than a million supporters across the continent. Guided by science and dedicated to program efficiency, DU works toward the vision of wetlands sufficient to fill the skies with waterfowl today, tomorrow and forever. For more information on our work, visit http://www.ducks.org. Connect with us on our Facebook page at facebook.com/ducksunlimited, follow our tweets at twitter.com/ducksunlimited and watch DU videos at youtube.com/ducksunlimitedinc.
-30-