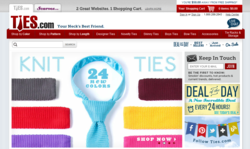 "We've always considered ourselves a tech company and this is another way to further enhance the end user experience. We spent many weeks laying out this new feature and in this instance form follows function," says Omar Sayyed, COO of Ties.com.
Garden Grove, CA (PRWEB) July 09, 2012
A combined shopping cart experience is a highly effective way to cross promote products to a shared audience and Wild Attire Inc. is reaping the benefits. The immediate improvements are measured by increased referral traffic, longer time on site, and greater average order values.
As a data driven organization they were happy to see the analytics showed a 50% lift in referral traffic from Ties.com to Scarves.com. As the 4th quarter approaches the company anticipates the usability improvements will result in 25% higher average order values.
A key improvement over how others like BananaRepublic.com use this feature is that on Ties.com and Scarves.com the shared shopping cart remembers the end users last session browsing behavior as they navigate back and forth between the sites. For instance if a user views some ties or tie racks on Ties.com and decides to look at scarves on Scarves.com, they don't want to lose their spot on Ties.com. The new feature remembers where they were on Ties.com so when they come back to that tab they can resume shopping without any hassle.
About Ties.com®
Ties.com is the largest online provider of men's fashion accessories. We've been helping people like you show off their personal style since 2001, back when we literally fulfilled orders out of our founder's living room. Since then, through some combination of good product selection, excellent customer service, great technology, and a lot of dumb luck, we've somehow managed to grow into the world's largest online necktie retailer.
You'll find a lot of options on our site, but don't be daunted - if we did our jobs right, everything should be easy to browse through. Ties (obviously), bowties, tie racks, boys ties, cufflinks, even crazy stuff like wallets and collar stays are all here. You'll also find a wide range of prices. We do our best to let everyone enjoy the benefits of style regardless of budget.