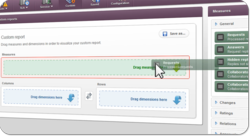 Existing reporting tools are like an X-ray. InvGate Service Desk Analytics is the 3D CT Scan.
Buenos Aires, AR, San Francisco, CA (PRWEB) July 25, 2012
InvGate the provider of innovative, next generation IT Service Management (ITSM) solutions today announced the addition of its Service Desk Business Analytics reporting tool, available now as part of the InvGate Service Desk solution. Based on OLAP, it enables users to interactively analyze multidimensional data from multiple perspectives.
More often, service desk managers are asked for reports they just can't deliver. Having the ability to dynamically slice and dice data to perform detailed drill downs and roll ups with a single click can highlight previously undiscovered patterns and relationships. Business managers will benefit greatly from InvGate's new service desk analytics. It provides faster, easier data discovery and greater insight into operational business metrics helping them deliver the value they are supposed to.
Remove complexity, add value
In keeping with the design philosophy used in the InvGate Service Desk, the BI Reporting tool leverages the same intuitive user interface (UI) to rapidly deliver value to the business and reduce the training requirements for service desk agents. Using a simple drag and drop approach, the business line managers can create complex analytical queries to quickly create rich visualizations of their operational data.
"Our OLAP tool enables the visualization of your business data with automatic, point-and-click filtering and drill-down functionality. You never wait for a report to be generated and you don't have to create complex queries to get relevant and meaningful information." Says Ariel Gesto, President and CEO at InvGate. "Typical helpdesk and service desk reporting tools are structured to be looked at, not to be worked on. It is the also the reason most reporting tools are clunky and slow if the datasets are manipulated or modified. Our focus has always been to make IT operate at the utmost efficiency and our use of design is delivering just that; information you need, when you need it. Our mission is to change how IT works through improved user experience and better design."
For more information about InvGate, visit http://www.invgate.com
For more Information about InvGate Analytics, visit http://www.invgate.com/en/service-desk/business-analytics/
Follow InvGate on Twitter at: https://twitter.com/invgate
Follow InvGate on Facebook at: https://www.facebook.com/invgate
About InvGate
InvGate Inc. is an innovative software development company creating next generation IT Service Management (ITSM) solutions that focus on enriching the user experience to increase adoption. This reduces training costs and enables the business to drive more value from IT. InvGate's customers include: government, education, retail and corporations of all sizes. InvGate Service Desk™ and InvGate Assets™ are being used by customers in over 20 countries to manage over 200,000 assets. IT departments are driving down costs, improving IT staff performance, increasing service levels and delivering real value to the customers they support.
Contact information:
Joyce Moschen
InvGate
524 Union Street #270
San Francisco, CA 94133
Office: 1 877 602 0800
Email inquiries to: pr(at)invgate(dot)com