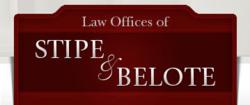 Oklahoma City, OK (PRWEB) July 05, 2012
After years of dedicated service to the state of Oklahoma, James Belote of the Law Offices of Stipe & Belote has been recognized by Super Lawyers®. This well-known and nationally recognized organization has been awarding high quality legal recognition for many well-appreciated years. This is the third time that Belote has been selected as an Oklahoma Super Lawyer®. Previous years include both 2009 and 2010. This prestigious honor is bestowed on an attorney of great ethical values and legal prowess.
This Oklahoma personal injury firms prides itself on intensive attention to detail and aggressive representation within the courtroom. Founding partner James Belote, Esq. as well as founding partner Jack Stipe strive to serve the Oklahoma City area with a personal injury attorney who puts the needs of the client first. Here, they don't merely recognize clients as cases with monetary value, but people who are hurt and in need of help.
Their considerable attention has paid off. With collective experience spanning more than 30 years, this dynamic team has created a considerable name for themselves. James Belote, along with his Super Lawyers® recognition, was also recognized by The American Trial Lawyers Association: Top 100 Trial Lawyers. The firm has also received a high AV® Martindale-Hubbell® rating, which is a form of respected recognition penned by fellow attorneys.
Belote has no doubt used his previously elected status as the 2009 President of the Oklahoma Association for Justice (OAJ) to help build a firm that truly serves the people. OAJ is consistently filled with intensively involved and influential personal injury attorneys throughout the state. The whole of the association is dedicated to serving those who have been victimized by negligence, and to help them begin their lives again. Belote has succeeded in branding such values into his firm.
An aggressive and yet increasingly passionate team of legal professionals resides within Oklahoma City. Those at the Law Offices of Stipe & Belote not only take their craft seriously, but also make sure to put those dealing with such intensive physical and emotional heartache first. There's no reason why anyone should be left in the dark regarding a legal battle. Instead, confidence should be found within the intensive intelligence of an Oklahoma personal injury attorney.
Once one has been involved in a personal injury case, they may feel as though there is nowhere to turn. It's difficult to get used to the pain that a car accident or defective product may have caused, as life suddenly takes a wrenching and confusing turn. No one should allow themselves to wallow in physical and emotional pain, but instead look to a legal team that is ready to bring heartache to justice. The Law Offices of Stipe & Belote is ready to bring a conclusion to the heartbreak with an award winning team.
The Law Offices of Stipe & Belote has served the greater Oklahoma City for more than 30 years. With an award-winning team of attorneys, the nationally recognized firm has raised the bar regarding help for those victimized by negligence. This highly qualified and tenaciously driven legal team is ready to give victims the help of an Oklahoma City personal injury attorney that cares. This is not a team that takes people for granted, or that forgets even the most common of personal necessities. Whether problems regard anything from car accidents to social security disability, the prestigious yet approachable firm is ready to bring all needling questions the answers that are necessary in a timely manner. Contact their offices today at 888-842-1374 to schedule a free case evaluation.