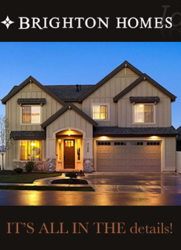 It is further acknowledgement of my confidence in their extraordinary capability to lead Brighton Homes into the future.
Boise, ID (PRWEB) July 07, 2012
Lars Hansen was promoted to the position of President and Tina Lytle to the position of Vice President of Operations of Brighton Homes. Blake Alder will serve as Chief Financial Officer for Brighton Homes, as he does with Brighton Corporation. "These titles acknowledge the significant leadership and dedication Lars, Tina and Blake have provided during a period of significant change in the industry and significant growth at Brighton Homes," said Brighton Corporation's President, David Turnbull. "It is further acknowledgement of my confidence in their extraordinary capability to lead Brighton Homes into the future."
These promotions come on the heals of a record win of thirteen awards for Brighton Homes at last month's Parade of Homes. "We are honored to be recognized for the passion and commitment we put into every home we build," said Hansen. "Realizing the level of design and attention to detail on display in every home makes the awards even more meaningful."
Hansen joined Brighton Corporation back in 2007 to develop new strategies in residential development and product design, and quickly moved up the ranks. His focus on environmentally friendly building and design helped Brighton Homes secure the 2010/2011 Northwest EnergyStar Idaho Builder of the Year award. Lytle came to Brighton in 2010 to streamline processes and has been an integral part in the continued growth of the company while navigating a challenging economy. CFO Blake Alder comes with over 25 years of experience as a CFO, CEO and Controller. Alder joined the team in 2008 and also manages strategic finance and investments for Brighton Corporation.
About Brighton Corporation
Brighton Corporation was founded in 1968 and has since grown to be a leading commercial and residential development firm. Brighton's portfolio includes office, retail and industrial properties as well as mixed‐use communities, residential neighborhoods and home building. Current projects include Paramount, SpurWing Greens, Tuscany, River Heights at Barber Valley, Barber Station, Mill District at Harris Ranch, Ustick Marketplace, Victory Business Center, Idaho Independent Bank Building, Heritage Commons, Karcher Crossing and 12th Avenue Place – all in the Treasure Valley. Brighton has also completed commercial developments in Colorado, Minnesota and Wisconsin and Utah. Brighton Homes was founded in 1994 as an entity of Brighton Corporation, and has created more than 1,000 homes across the Treasure Valley with styles ranging from patio homes to estates.
Learn more about this Boise Idaho Home Builder