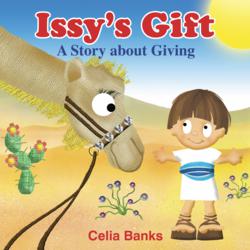 "Every child and every person has something that he or she can give to God, and the person who gives to God experiences a very special kind of joy," Celia Banks
Lexington, Kentucky (PRWEB) July 03, 2012
Author Celia Banks will be featured on a national radio program today talking about one of her books, Issy's Gift. Banks has written a series of children's books to help today's children by leading them to the Bible while establishing in them a reliance on and a love for God's Word."
Banks was selected to participate on The Christian Authors Show by the show's producers who look specifically for developed Christian authors. The show focuses on a single book by each author. Banks felt Issy's Gift was a great way to introduce listeners to her series as giving is such an important lesson for children. "When the children read this story they really get it too," Banks explained in her interview. "Every child and every person has something that he or she can give to God, and the person who gives to God experiences a very special kind of joy," she added.
Issy's Gift is one book in the God's Word Is Just For Me Series. This series uses new and creative art and dialogue to enhance children's reading and learning experience. Children can use these interactive activities to improve reading skills, learn textures, and engage their environment and surroundings. Banks said, "They want to touch the pages because of the tactile appearance that the illustrations have."
Banks is very excited at the opportunity to share her popular series with a national audience. She talked about her inspiration for the series on the show, "I was inspired to write my first book, which was Jacob's promise, after I heard a sermon about Jacob's most unusual flock of animals and the Bible has been my inspiration for all of my books."
The interview can be heard all day on Tuesday, July 3, at http://www.wnbnetworkwest.com/WnbAuthorsShowChristian.html. A link will then be posted on the website, http://www.celiabanks.com.
About Celia Banks
Children's author Celia Banks is a former vice president of design for the International China Company and has been a designer for dolls, dollhouses, toys, cosmetics and gift products for such companies as Avon Products Inc., Mattel Inc., Hasbro and Horsman Doll Company.
She has recently taken her corporate experience and coupled it with her love of children and literature to create a unique series of interactive, illustrated children's books. Her method of using photographic textures is cutting-edge and proving to be an incredible interactive learning tool for young children.
About The Christian Authors Show
In 2008, producer and host, Danielle Hampson, launched the online radio version of The Authors Show. After the show's rapid growth, it was split into several genres; The Business Authors Show, The Children Authors Show, The Christian Authors Show and The Wellness Authors Show. Danielle currently hosts The Business Authors Show and The Christian Authors Show.