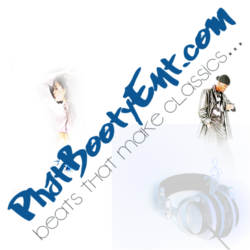 ...the 60+ page free e-book is packed with advice and resources every music artist needs to build a career in today's music business.
Winnipeg, MB (PRWEB) July 05, 2012
From viral music videos to social media success stories, the Internet and digital music production have allowed almost anyone with drive and a dream to build a sustainable music career. But with this level-playing field comes increased competition, forcing up-and-coming music artists to somehow cut through the increasing clutter in today's music business. That's why urban music production company PhatBootyEnt.com has redesigned and relaunched their website and blog to offer aspiring artists a place they can get everything they need to build a sustainable music career. From instrumental music beats to music business tips and resources, the newly redesigned website is the independent artist resource for today's rising music stars.
With the relaunch of the website, the company is offer a free kick-start guide on how to become a singer or rapper. The guide offers both singers and rappers real-world advice on all the different aspects of starting a career in music. From music creation, to marketing and distribution and even touring and major record label deals, the 60+ page free e-book is packed with advice and resources every music artist needs to build a career in today's music business.
The company is also running a 50% off sale on their entire selection of rap beats, pop beats and r&b beats. New beats are added every week and are available both exclusively and non-exclusively. The company also offers custom beat creation and mixing and mastering services. The PBE Blog, a special section of the site dedicated to music business and creation tutorials, videos, articles and news, will feature in-depth go-to guides on everything from recording your own vocals to marketing, promoting your music online and even making beats and instrumentals.
"We want to offer all independent music artists - rappers, singers and even bands - a place where they can come to learn, create and grow in their music career," says Omar Zulfi, a producer at PhatBootyEnt.com. And although the beats and instrumentals offered at PhatBootyEnt.com cater mostly to urban music artists, Zulfi says he hopes that all up-and-coming independent musicians can use the information and other resources on the site to move their careers forward.
PhatBootyEnt.com first launched in 2010 as a website offering professional, industry-quality beats and instrumentals for rappers and singers. The site has grown to include music business tips, education and resources for all up-and-coming independent music artists. To learn more about the beat sale, free guide or building a career as an independent music artist visit PhatBootyEnt.com.