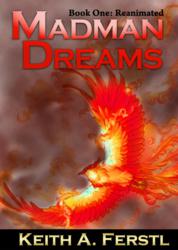 It's mindboggling technology.
Tampa, FL (PRWEB) July 05, 2012
After an avian flu pandemic, Keith A. Ferstl's YA Science Fiction Thriller plunges seventeen-year-old Jonathan Chaulk and eighteen-year-old McKenna Dupree deep into the underbelly of Bear Claw Island's mysterious Phoenix Institute. Interwoven with cutting-edge science, Madman Dreams reveals how close humans are to achieving immortality in this lifetime.
Ferstl (http://www.keithaferstl.com) drew from his interests in cryonics and nanotechnology to develop the core plot ideas for his series. "Scientists predict future medicine will include advanced nanotechnology, and the ability to heal at the cellular and molecular levels," the author said. "In other words, cryonics will preserve the brain until medical breakthroughs produce cures and nanotechnology can repair damaged cells."
"It's mindboggling technology," Ferstl said. "The nanobots described in Madman Dreams would likely be the size of about one micron. A human hair is about one hundred microns wide; a red blood cell is about eight microns in diameter and three microns thick."
The series follows Jonathan Chaulk and McKenna Dupree, who are immersed in astonishing scientific breakthroughs, and entangled in a web of intrigue and mystery surrounding the enigmatic Phoenix Society.
When asked how the author arrived at the book's title, Ferstl said, "On the surface, the ideas explored in the series, such as immortality, nanotechnology and even cloning, are exciting and reasonable. But filtered through the minds of madmen, they become distorted dreams."
About the Author
Keith A. Ferstl was inspired as a young boy to write his first story about a planet-munching monster after reading a story his father had written in his teen years. His dad always had a book within easy reach, influencing Keith's love of books. His experience includes acting and playwriting. His play, HOW TO START AT THE BOTTOM AND STAY THERE, a comedy, won the Masque of Temple Terrace's national playwriting contest. ROARIN' JUDY: DEAD OR ALIVE, starring Dawn Truax, was produced by Tampa's Stageworks, Inc.
Keith's interactive murder mysteries, co-produced with Peggy Kehoe, amused and entertained guests at the Gibson Inn in Apalachicola, Florida, and other cities for many years. He and his wife live in Tampa. With ten grown children—his, hers, and theirs, plus five dogs and two cats, he still appears to be sane. He looks forward to entertaining his readers with the debut of his first two books in the series.
Madman Dreams Book One: Reanimated and Book Two: Revenge are now available as eBooks on Kindle and Nook.