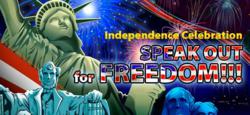 Independence Celebration: Speak Out for Freedom!
Ho Chi Minh, Viet Nam (PRWEB) July 04, 2012
From July 2nd to July 9th, users will have the chance to celebrate the US Independence Day in every chat room and online game with these three Audio4fun's products, AV Voice Changer Software DIAMOND, Webcam Morpher and VIP Card. They are available at a 40% discount, during this Independence Celebration. The event is totally open to all visitors at Audio4fun.com. Please visit http://www.audio4fun.com/promotion.htm for more information.
These on-sale products have long been well-known for their special features and unique benefits.
Voice Changer Software DIAMOND is designed to perform dynamic voice changing in almost any situation (chatting, gaming, song mixing, dubbing, etc.) When working with this voice-over tool, users are encouraged to record their own voice into any audio or video clips, to create entirely new ones when chatting and gaming, or they can take full advantage of Audio4fun's online nickvoice store to act and speak like a real actor, actress, or even a President, all in real time. This tool is currently the company's best-seller.
Webcam Morpher is another special product from Audio4fun's software store. It is a simulated webcam that allows you to totally control the image and background, creating an endless combination of possibilities. Use this virtual webcam aims to become any character you can create, or play a little trick on someone by appearing as someone else on the webcam, or just help yourself feel more relaxed and in your online conversations. There is also a large and growing collection of "nickfaces" and backgrounds at Audio4fun.com for any visitor to check out, download and use for free.
VIP Card is the highest membership certificate granted by Audio4fun to our special clients. It allows buyers to pay once and get all Audio4fun product licenses, along with full, unlimited support. This one-for-all solution, with a current value of $1000, would give its owner full power at Audio4fun.com.
During this Independence Celebration, all the aforementioned products will be available at a 40% discount. The promotion will last for 7 days and be open to all visitors.
July 4th has perennially been among the most important events in America, and America has always been Audio4fun's main market with so many loyal customers. This annual event is another chance for this company to show its gratefulness to supporters and to share its pride and admiration for the States. Everybody is welcome to celebrate and enjoy at Audio4fun.com. Please pay a visit and feel free to make your choice at http://www.audio4fun.com/promotion.htm.