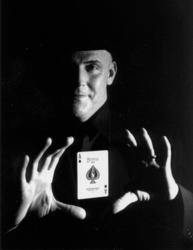 You don't have to be David Blaine to take part in this July 4th Challenge. Just help make a Marine smile.
Vancouver, B.C. Canada (PRWEB) July 04, 2012
Stunt Buxx, the First Online Viral Media Game Show, continues its off-the-hook Launch Week Stunt Challenges with a special Fourth of July Independence Day magic challenge they're calling, "David Blaine Our A**", a tip of the hat to the amazing, uber-hip American illusionist and street magician.
"We wanted to come up with a creative, fun way to celebrate America's biggest party, so we designed this specially-themed magic challenge", said Ryan Bennett, co-founder and CEO of Stunt Buxx. "Dazzle us with your best illusion, sleight of hand, manipulation, levitation, metamorphosis - whatever you've got. In other words, gobsmack us with a killer magic trick."
Stunt Buxx bills itself as "the next generation in online video contests". Players are presented with a fun daily challenge. They then shoot a video of themselves performing the challenge and upload the clip to the Stunt Buxx website, encouraging their friends to give Props to, Share, and Tweet the video on social media websites like Facebook and Twitter. Daily cash prizes are awarded for each category.
"Magic appeals to everyone.", said Bennett. "There are thousands of magicians - amateur and professional - out there. Almost everybody does a trick or illusion of some kind - and yes, bar tricks count. You don't have to be David Blaine. You just have to make us say, cool!"
"On July 1st we asked players to paint the Canadian flag on a watermelon to celebrate Canada Day.", Bennett continued. "For this Fourth of July challenge, in honor of the 100th anniversary of Marine Corps Aviation and the sacrifices they've made for both our countries, we're asking all contestants to display either the American flag or the Marine Corps logo while doing the challenge. They can paint it on, wrap themselves in a flag, whatever they want, just as long as they're showing their support. We're also sweetening the prize pot a little. The three winners of our 'David Blaine Our A**' Challenge who show either the American flag or the Marine Corps logo in their video will each win a bonus $100."
"Stunt Buxx isn't like other video sites. We're an online game show. On Stunt Buxx, there's a new challenge posted every day. Contestants who play Stunt Buxx know within 24 hours if they've won. And we pay our winners daily!", said Bennett.
For more information, visit the Stunt Buxx website at: http://www.stuntbuxx.com
About Stunt Buxx
Stunt Buxx is the first online viral media game show - where it pays to share. CEO and Co-Founder Ryan Bennett has a degree in filmmaking but caught the internet bug in 1999 and never looked back. He is currently president of Little King Media, acting as an SEO consultant and content strategist for blogs and internet ventures.
Contact Information
Stunt Buxx Interactive Advertising Ltd.
Ryan Bennett
1-877-944-BUXX