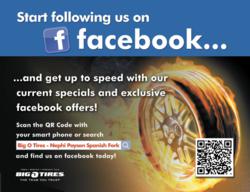 You have to be there [Facebook]. It's not about ROI, it's about COI -- cost of ignoring. It's too big to ignore... Erich Marx, Nissan director
Orem, UT (PRWEB) July 05, 2012
With the growing requirment of using social and content marketing techniques, the rainapps' FB Setup and Signage Kit supports business owners in the multibillion dollar automotive industry. Increasing customer traffic and connecting with a thrifty customer base is critical in today's tough automotive business. Please look over the sample signage. Some Big O Tire locations are using these to promote their Facebook page.
Readymade, high quality graphics are delivered for only $199 or upgrade to a custom made FB signage kit for an affordable $299. FB Signage Kits for Facebook are drastically lower in price compared to traditional advertising methods.
About rainapps llc: Launched in 2010, rainapps successfully blends technology
and creativity. Other published rainapps software titles include Say Cheese
Camera (22,000+ Facebook Fans) and Powered Up (Facebook deal app) free Facebook apps, rainFrames and rainSlides, ect. The company founder was previously involved with the software and creative development of Cricut, a popular craft cutting machine. The development team combines over 50 years of technology experience and 40 years of graphic arts experience.