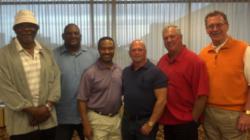 We need all the help we can get to get the word out to the public and this campaign is doing just that. I know this campaign saved Stu Voigt's life. Not only can it save lives, but it can add years so people can live more healthy and fulfilling lives.
Minnapolis MN (PRWEB) July 04, 2012
Former Minneapolis Vikings players Chuck Foreman, Carl Eller, Stu Voigt, Bob Lurtsema, Greg Coleman, Leo Lewis, in addition to other NFL greats such as Mike Haynes and Derek Kennard, and Lee Nystrom, President of NFL Alumni Minneapolis chapter, came together to tackle sleep apnea at an awareness event on June 24.
The Minneapolis awareness event was part of a series of national campaign events, titled, "Tackling Sleep Apnea." The event took place in Bloomington, MN. Former NFL players shared their stories and experience with sleep apnea. In addition, the players were available after the event to sign autographs. Experts were also sharing information on signs, symptoms, dangers, and treatment options about sleep apnea.
As part of the national sleep apnea awareness campaign, 50 Minneapolis residents were offered free in-home sleep tests and free sleep apnea treatments. Dr. Rodney Willey, DDS, D'ACSDD, from the Illinois Institute of Dental Sleep Medicine spoke at the event. He is currently mentoring Minneapolis dentists to spread sleep apnea awareness and treatment.
The Pro Player Health Alliance is the organization responsible for teaming up the former NFL players with sleep apnea advocates across the country. The organization was formed by David Gergen, President of Gergen's Orthodontic Lab, Rani Ben-David, President of Sleep Group Solutions, and with the help of former NFL hall of famer Mike Haynes, in efforts to help identify and treat sleep apnea in former NFL players. In addition, the group is hoping to spread a national awareness of sleep apnea and alternative treatment options.
Currently, Dr. Patti Froeber, DDS, is treating Former players Carl Eller, Mike Haynes, Chuck Foreman, Greg Coleman and his wife , Bob Lurtsema, and Leo Lewis. In addition, Dr. Mike Roscher, DDS, is treating former players Stu Voigt , Lee Nystrom, and Sydney Justin. Roscher said, "I knew there was a problem when Voigt fell asleep in the dental chair while the oral appliance was being administered."
Voigt had a sleep study several years ago and had been treated by the continuous positive airway pressure (CPAP) therapy, but he was never able to tolerate the CPAP mask. Over the years, his apnea worsened. At that time, Voigt's sleep study showed an oxygen de-saturation as low as 70 percent while sleeping. According to board certified sleep physician, Dr. Rodolfo Martinez Ferrate, MD, "Stu Voigt was a dead man walking before he was successfully treated for sleep apnea. This NFL awareness campaign is really helping people."
Voigt has stated, "My oral appliance is awesome. After the third night, I didn't even realize I was wearing it. I wish oral appliance therapy was offered to me when I was originally diagnosed with sleep apnea because I feel so much better and I'm no longer tired anymore."
Derek Kennard had said that if he had met David Gergen three months earlier, his brother Donald's life could have been saved. "I have made it my mission to spread awareness on sleep apnea, the dangers of untreated sleep apnea and effective treatments," Kennard said. "Sleep apnea does more than lead to several health problems, it can take your life. We need all the help we can get to get the word out to the public and this campaign is doing just that. I know this campaign saved Stu Voigt's life. Not only can it save lives, but it can add years so people can live more healthy and fulfilling lives. For these reasons, this campaign has been a very rewarding experience."