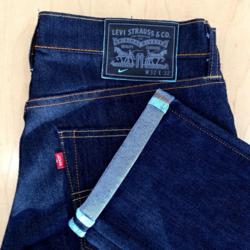 Annapolis, MD (PRWEB) July 04, 2012
For the past few months, the phone at Pure Board Shop has rung at least twice a day if not more, asking about the Nike SB and Levi's Jeans Collab. These jeans will be among the extremely limited items in the shop this season, and they will sell out extremely quick. People simply want these pants and many will come from hours away to buy them because Pure is the only shop in Maryland who has them. In fact, only 900 pairs of these pants were made and each pair has been hand numbered.
These jeans are made specifically for skateboarding. They feature a material called Vectran. This material is super strong and super light. Nike's Dri-Fit material ensure that these pants will stay cool in the Summer Heat. The material also has a good stretch to make sure that they will fit perfectly and get the most maneuverability out of any pair of pants. Levi's new Water-Less Manufacturing process reduces the amount of water in the manufacturing process making the pants very Eco Friendly. These Jeans promise to be some of the best selling pants this season.
Pure Board Shop opened its doors on May of 2005. Its ease of access and parking make it a destination shop for riders and urban street ware fans alike. With their mix of products and variety in skate, snow, surf and exclusive streetwear and shoe brands Pure's customers extend far beyond their Annapolis location. Pure prides itself on making customer service its number one priority, with product knowledge and having the right product mix a close second. The store and the website feature an ever growing brand inventory such as Nike SB, Nike Snowboarding, Adidas skateboarding, Vans, Diamond, HUF, LRG, RVCA and The Hundreds. The shop also prides itself on having the largest variety of longboard equipment in the area; with brands like LandYachtz, Rayne, Caliber, Cult Wheels, Abec11 and many more. Pure puts on monthly skateboard jams/events in their local skateboard park as well as sponsors many longboard slide jams in the DC Metro Area.
Contact Pure at 410-267-7669 or visit them on the web at pureboardshop.com