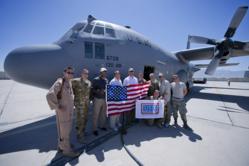 Arlington, VA (PRWEB) July 04, 2012
In celebration of America's independence and our service heroes stationed around the globe, the USO and NFL kicked off summer 2012 with their fourth annual USO/NFL Coaches Tour to the Middle East. Having foregone their holiday plans to spend time with troops is former Pittsburgh Steelers head coach and current CBS Sports analyst Bill Cowher; Minnesota Vikings head coach Leslie Frazier; New York Jets assistant special teams coach/U.S. Army veteran Ben Kotwica; and former NFL coach and current ESPN analyst Eric Mangini. As part of the week-long USO/Armed Forces Entertainment tour, the group is in the region talking football, sharing personal accounts of life on the sidelines and posing for photos with troops. **PHOTO LINK BELOW
DETAILS:

This is the second USO tour for Cowher, who travelled to Kuwait and Iraq on the first USO/NFL Coaches Tour in 2009, and the first for Frazier and Mangini.
Far from a stranger to military operations and the USO, coach Kotwica is a decorated officer who spent seven years in the U.S. Army. Having spent nearly a year in Iraq in 2004 as well as time in Bosnia and Korea, he is also a graduate of West Point. Wired to be a soldier, Kotwica became a fighter pilot before deciding to leave the service to fulfill dream of coaching.
Three days into their Independence Day tour, the group has lifted the spirits of more than 850 soldiers, airmen, Marines, Reservists.
A staple in USO entertainment, the NFL was the first sports organization to send a group of players to Vietnam and other parts of the Far East. A USO partner for more than 46 years, the NFL sends celebrity sports figures around the globe to visit and uplift troops multiple times each year.
Since the first USO/NFL Coaches Tour in 2009, 17 NFL coaches have lifted the spirits of more than 5,300 troops stationed in Germany, Afghanistan, Kuwait and Iraq. Among the coaches to have participated in these morale-boosting trips include, Tom Coughlin, Bill Cowher, Jeff Fisher, Jon Gruden, John Harbaugh, Brad Childress, John Fox, Marvin Lewis, Andy Reid, Gary Kubiak, Ken Whisenhunt, Jim E. Mora and Jim L. Mora.
Early last month, Super Bowl MVP and current New York Jets wide receiver Santonio Holmes, Chicago Bears Pro Bowl running back Matt Forte and San Diego Chargers Pro Bowl defensive lineman/USO tour veteran Tommie Harris made an impromptu USO visit to Germany, where they signed autographs at Ramstein Air Base and visited with the wounded, ill and injured at Landstuhl Regional Medical Center.
Other NFL players who participated in USO tours this year include free agent punter Jason Baker; 11-year NFL veteran/Travel Channel show host Dhani Jones; Cleveland Browns Pro Bowl center Alex Mack; San Diego Chargers two-time Pro Bowl linebacker Takeo Spikes and Kansas City Chiefs offensive tackle Eric Winston, who traveled to Kyrgyzstan and Afghanistan in March.
MULTIMEDIA:
USO Tour Photos: http://tinyurl.com/85o8l6m
USO Fact Sheet: http://bit.ly/yaebvo
USO Logo: https://uso.box.net/shared/6q5cq0siij
NFL Logo: https://uso.box.net/shared/rpb2osakfs
AFE Logo: http://bit.ly/bCGwld
SOCIAL MEDIA AND OTHER WEB SITES:
Twitter: twitter.com/the_USO, twitter.com/nfl, twitter.com/CowherCBS and twitter.com/armedforcesent
Facebook: facebook.com/theUSO, facebook.com/NFL and facebook.com/Armed.Forces.Ent
Web: http://www.uso.org, http://www.nfl.com and http://www.armedforcesentertainment.com
###
About the USO
The USO (United Service Organizations) lifts the spirits of America's troops and their families millions of times each year at hundreds of places worldwide. We provide a touch of home through centers at airports and military bases in the U.S. and abroad, top quality entertainment and innovative programs and services. We also provide critical support to those who need us most, including forward-deployed troops, military families, wounded warriors and their families and the families of the fallen.
The USO is a private, nonprofit organization, not a government agency. All of our programs and services are made possible by the American people, support of our corporate partners and the dedication of our volunteers and staff. In addition to individual donors and corporate sponsors, the USO is supported by President's Circle Partners: American Airlines, AT&T, Clear Channel, The Coca-Cola Company, jcpenney, Kangaroo Express, Kroger, Lowe's, Northrop Grumman Corporation, Procter & Gamble, and TriWest Healthcare Alliance and Worldwide Strategic Partners: BAE Systems, The Boeing Company, Lockheed Martin, and Microsoft Corporation. We are also supported through the United Way and Combined Federal Campaign (CFC-11381). To join us in this patriotic mission, and to learn more about the USO, please visit uso.org.