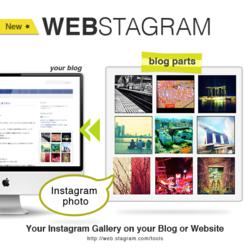 Singapore (PRWEB) July 06, 2012
The blog and website owners all over the world can now effortlessly display images from Instagram on their blog or website. Singapore based developing company A-FIS has just enhanced their extremely popular Instagram web viewer named Webstagram. A 'Blog Parts' widget has been added to their website to make this possible. This excellent feature can be customized and installed without any difficulty whatsoever. They only need to copy and paste in order to start enjoying this amazing photo sharing facility. Users can enjoy this feature either by using a username or using hashtags.
Immediately after its release, this user friendly tool has become part of Smilesfilm, a well known project from legendary peace activist, author, and artist Yoko Ono. She is highly respected all over the world for her philanthropic contributions to peace and arts. Smilesfilm is a participatory artwork reflecting her extraordinary vision of mass participation. This project invites people from different parts of the world to upload photographs of their smiling faces to Twitter and Instagram. The Smilesfilm website collates all these smiles and makes it globally viewable as a film.
Becoming a part of this exceptional worldwide program certainly speaks volumes about the popularity of Webstagram. It must be mentioned here that it is presently the most widely used Instagram viewer, with almost 80 million page views only in the month of June. The benefits of this useful image sharing tool are presently used by many business users, too. On becoming associated with Yoko Ono's Smilesfilm project, director of A-FIS Mr. Joe Mio said, "This is a great honor for us to be part of this excellent program. The new widget on our website has plenty to offer to all website and blog owners" He also mentioned the company is working on many more new features to enhance Webstagram.
About A-FIS:  
A-FIS PTE.LTD. is a Singapore based web developing/managing company founded in August 2011. At present, the company is primarily engaged in developing their own media including Webstagram.
Contact:
A-FIS PTE.LTD
Website: http://a-fis.com/