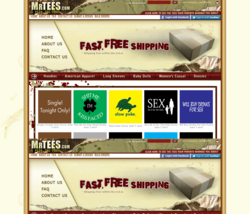 It's cool to see our funny shirts worn on the streets by lots of people
(PRWEB) July 04, 2012
The growing trend among humor shirts have increased the demands from loyal customers of Mr Tees. Because of this, the company has decided to continue and strengthen its long time partnership with Screen Printed T Shirt Designs.
This is to mainly focus on the bulk orders that Mr. Tees have been receiving lately from loyal customers and retailers who constantly expands on their shirt business.
Site Co Manager Rowena Vale says, "Everything has been overwhelming for the past few weeks starting from the shirt ideas that we've been receiving from contributors, the updates that we're implementing on the site, to the large orders that we have received. We have to maintain the quality of our shirts. That is the reason why this partnership is important."
"It's cool to see our funny shirts worn on the streets by lots of people. It's always a great feeling, and we would want to maintain that by improving our services. Screen Printed T Shirt Designs will not only help us in catering bulk orders, but would shorten the printing time."
She also pointed the fact that Screen Printed T Shirt Designs have been recognized as the Best Screenprinter for 3 consecutive years. They have a 22 year experience in the business and have been recognized to deliver high quality of prints, something that Mr. Tees are aiming to get in order to preserve that shirt quality.
The site sells various types of funny and humorous shirts such as hoodies, American apparel, long sleeves, baby doll, women's casual, and onesies. They also have those "tees that your parents warned you about."
About MrTees.com
MrTees.com is an online shirt seller that caters mass orders of funny, cool, and busted tees of the finest quality. They have the lowest prices, uses only the trusted carriers around for the safety of your package, and excellent customer service.