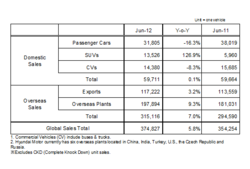 (PRWEB) July 04, 2012
In passenger car sales, Hyundai ranked third for the month with 7,064 vehicles sold and a market share of 12.3%.
The month saw HMCA achieve a number of 'best ever' results including highest ever monthly sales for the company since its foundation in 2003, and second highest sales month since the introduction of the brand to Australia in 1986. In addition, the all-new Elantra, i40, Veloster, ix35 and iLoad all recorded their best ever monthly sales results since their respective launches into the Australian market.
For the fifth consecutive month since its launch the Veloster topped the Sports segment with 450 sales and a segment share of 27.3% for sports vehicles less than $80,000, or 20.2% of the total sports segment. The ix35 continued to perform strongly with a second consecutive place in the SUV Small segment with 1,360 sales and a 20.8% segment share. Business and private buyers alike continued to favour the iLoad, which placed first in the Vans/CC 2.5-3.5t segment with 747 sales and a segment share of 39.3%.
Hyundai led the Small segment with a segment share of 16%, achieved through combined sales of its i30 and Elantra models. In the Light segment Hyundai placed third with combined sales for the i20 and Accent of 1681, to give a segment share of 12.4%.
"It's very encouraging to see the continued growth for not only new models, but across the entire range," said Damien Meredith, Director of Sales, Hyundai Motor Company Australia. "The result is testament to the effort and focus we put into understanding customer needs and continually improving our value offering."
In the U.S., Hyundai Motor America (HMA) announced an all-time June sales record of 63,813 units, up +8% over June 2011. For the first half of the year, sales are up +10% to a record 356,669 units.
Hyundai Motor Company has seen an overall increase in global sales of +5.8% rising from 354,254 units in June 2011 to 374,827 units in June 2012.
Hyundai's Australian highlights include:

Veloster ranked first in the Sports segment, posting a sales result of 450 units and a 20.2% total segment share.
iLoad ranked first in the Van/CC 2.5-3.5t segment, achieving 747 vehicle sales and a segment share of 39.3%.
ix35 ranked second in the SUV Small segment, posting a sales result of 1,360 units and a 20.8% segment share.
iMax ranked third in the People Mover segment, achieving 203 vehicle sales and a segment share of 18.2%.