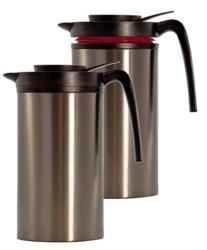 Our strategy is to offer our customers the world's best vacuum flask, including the advantages of the world patented indicator, at a competitive price
(PRWEB) July 06, 2012
The vacuum flask, developed over the past three years and just released to the US market, is the result, firstly, of a good idea and, secondly, a global market analysis asking the question 'what makes the best vacuum flask in the world?'. The answers to this question have been incorporated in the design and construction of the flask with the aim of making the world's best vacuum flask for professional use.
The starting point was a world patented indicator showing how much is left in the jug so it is no longer necessary to lift & shake – smart and simple. But this indicator is not enough for the discerning professional users. Ergonomics, hygiene, design, quality, functionality and price combine to produce a high quality product.
The Managing Director of Spirit of Denmark, Per Karlsmose, says: 'Our strategy is to offer our customers the world's best vacuum flask, including the advantages of the world patented indicator, at a competitive price'.
The primary customers are hotels, restaurants, conference centres, hospitals, canteens, offices – places where people drink a lot of coffee. The unique advantages of the indicator are improved customer service, working environment for waitresses and cost savings by brewing less coffee, making the jug environmentally friendly.
The vacuum flask also appeals to non-commercial customers because of its beautiful Danish design and exciting functionality.
Spirit Vacuum Flask Professional is available on Amazon.
Photo text: Spirit Vacuum Flask Professional (full and empty)
Function text: World patented level indicator