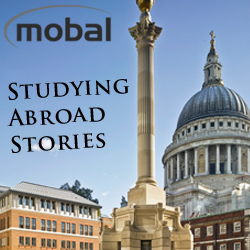 Mobal are looking to hear from International Students, past and present, to tell their study abroad stories
(PRWEB UK) 6 July 2012
Thanks to the Mobal World Phone, Students have been staying in touch with family and friends for years. Whilst this is one reassuring benefit of studying abroad, there are many more reasons why students should consider studying abroad.
Students often look back on their time studying abroad as providing them with an invaluable experience, both in terms of an education and in a lifestyle.
Many Universities and Colleges around the world open their doors to International Students, and it's easy to understand why. The University benefits from having a broad mix of students, from differing countries and with a variety of backgrounds, and this gives students the ability to learn and excel these diverse arenas.
There are also a number of options available for potential International Students, all of which will offer a different experience. As well as different studying options, students also need to decide where they would like to study, again this will affect their studying abroad experience. Each student will be involved in an experience unique to them wherever they go.
Another huge impact studying abroad can have on students is their career. Business is not just local, but international, therefore if students can demonstrate what they have learnt from studying in another country this can distinguish them above their peers.
However, whilst these broad differences are understood the devil is always in the detail. This is why Mobal are looking to hear from International Students, past and present, to tell their study abroad stories.
All students need to do is email stories(at)mobal(dot)com for more information.
COMPANY INFORMATION: Mobal Communications Inc have been renting and selling satellite and international cell phone services for over 20 years. For more information on the company and its products please visit http://www.mobal.com, call 888-888-9162 or email the customer support team at support(at)mobal(dot)com