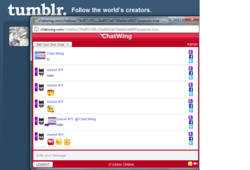 Omaha, NE (PRWEB) July 04, 2012
Blogging about products has been one of the common activities in the Tumblr community today. This is based on the number of blogs and websites created for the sole purpose of product blogging and reviewing. Analyzing the importance of this fact, the Chatwing development team has introduced a chat box that can help product bloggers reach out to many people. The Chatwing chat tool has also been introduced in various online communities such as gaming, fashion, dating, and even gadget sharing.
The latest version of the Chatwing shoutbox is meant to help Tumblr bloggers gain the right visibility for their blogs. The Chatwing tool does this by transforming the blog into an active chatting lounge where people can discuss a lot of things. These discussions range from tech talk, current events, Hollywood, Facebook games, and financial advice. Tumblr product bloggers can also use the shout box to gather collective information from their blog guests and visitors. One of the strongest features of the Chatwing chat tool is social media integration. With this option, guests and visitors can now log in with their Facebook or Twitter accounts. This is useful for people who want to expand their social networks.
The dev team of Chatwing has tried out numerous upgrades in the past, in order to make the chat platform run efficiently. This is to keep the satisfactory level of Chatwing users by up to 100%. The team is also planning to add a feature wherein a user can see a longer message history of the chat messages. This makes the web chat experience more informational and exciting for all Chatwing users.
The Chatwing team is also dedicated in providing 100% efficient experience for all of their users. Chatwing developers believe that an efficient website chat will bring in more fun and information for everyone in the Internet. Chatwing also has an interactive Facebook page full of timely and interesting content.
About Chatwing.com
Chatwing.com has developed live chat software for websites and blogs. It caters to different online communities due to its high rate of connectivity. Everyone can create a customizable live chat box feature in 1 minute or less. Users have the ability to customize the size, color, and fonts of the chat product. The ability to chat via social media accounts such as Facebook and Twitter enable Chatwing to offer a personal and unique real-time experience to all sites. Chatwing is 100% free and very easy to use.