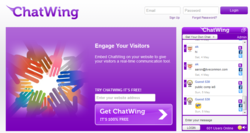 Tucson, AZ (PRWEB) July 06, 2012
Chatwing is now expanding in the niche of Tumblr microblogging by launching a chat widget that can make blogs attain better visibility in the long run. This chat tool has also been introduced in various forums and online communities, though it has better ranking in the blogosphere. The Chatwing tool is also known for its high rate of global connectivity and adaptability in different blogs and websites. Aside from that, the application's ease of access has benefited a lot of bloggers and web surfers.
The Chatwing shoutbox improves the blog's visibility by providing a stream of communication for blog visitors. Under the Chatwing chat tool, different topics can be discussed, such as current events, trends, technology, gadgets, and even the latest Hollywood gossips. The shout box, straightforward by nature, also serves as a way for the blogger to interact with his blog visitors in real time. One of the best features that have contributed to Chatwing's overall ranking is the social media integration. Through this option, Chatwing users can now log in with their Facebook or Twitter accounts.
Since Chatwing is a widget, it can be installed to most blogs and websites. The Chatwing team has put a lot of effort to ensure that the chat box can be installed in just few seconds. Chatwing installation can be accomplished in three keys steps: registration, customization, and actual embedding. The customization process of Chatwing allows the user to change the size, color, and title of the widget. This is to ensure that the widget is properly synchronized with the blog's overall theme.
The developers of Chatwing will always pursue upgrades and developments to make the chat platform as efficient as possible. Since the Chatwing client base is growing, the dev team is also working round the clock to totally maintain the speed of the Chatwing web chat tool. Chatwing also maintains a blog and Facebook page filled with timely and informational content.
About Chatwing.com
Chatwing.com has developed live chat software for websites and blogs. It caters to different online communities due to its high rate of connectivity. Everyone can create a customizable live chat box feature in 1 minute or less. Users have the ability to customize the size, color, and fonts of the chat product. The ability to chat via social media accounts such as Facebook and Twitter enable Chatwing to offer a personal and unique real-time experience to all sites. Chatwing is 100% free and very easy to use.