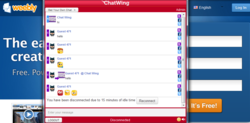 San Diego, CA (PRWEB) July 04, 2012
Weebly, one of the most versatile website creation apps in the Internet, is still gaining ground due to its high number of new daily users. This is also based on the numerous Weebly reviews noted all over the Internet. The Chatwing dev team has begun analyzing this fact, thus allowing them to expand easily in the Weebly community. The team has started the move by introducing a reliable shoutbox that can help Weebly users gain online presence for a long time.
The Chatwing shout box has also been introduced in other famous blogging communities such as Wordpress, Posterous, Livejounal, and Windows Live Spaces. These strategic expansions have contributed to Chatwing's overall online rank. Also, one of the best things that have sure-fired Chatwing's flight to success is the social media integration. With this, Chatwing users can now log in with their Facebook or Twitter accounts. This is useful for people who want to expand their social networks. This is also essential for Weebly users who are also new in the field of blogging.
The Chatwing dev team has also introduced various backend upgrades in order to make the web chat tool more reliable in terms of communication. Now, users can save time because they can install the widget in just seconds. The new version of the Chatwing chat box also offers a high rate of customization. Chatwing users can select the size, color, and even rename the title of the widget. This will allow better synchronization for many bloggers.
The Chatwing team will always work hard to ensure that their chat widget will continue providing 100% satisfaction rate for everyone. To do this, vigilance and dedication is utterly required. The team is also considering expansions in forums and message boards, in order to reach more people in the least possible time.
About Chatwing.com
Chatwing.com has developed live chat software for websites and blogs. It caters to different online communities due to its high rate of connectivity. Everyone can create a customizable live chat box feature in 1 minute or less. Users have the ability to customize the size, color, and fonts of the chat product. The ability to chat via social media accounts such as Facebook and Twitter enable Chatwing chatrooms to offer a personal and unique real-time experience to all sites. Chatwing is 100% free and very easy to use.