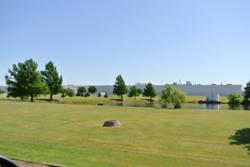 The Asco family grows to become larger and more global, consolidating an attractive positioning to respond to customer demands in the Americas
Farnborough, UK (PRWEB) July 09, 2012
Asco Industries, Belgian world leader in design and manufacture of high lift mechanism devices, complex mechanical assemblies and major functional components for the aerospace industry, announced today the acquisition of a production site in Oklahoma, USA.
An American based manufacturing
Asco has acquired a site located in Stillwater Oklahoma to serve as the group manufacturing center of excellence for the Americas. The location of the new plant was chosen because of its convenient location, attractive workforce, and training and research possibilities.
The covered industrial surface of the plant is 66 000 m² (715,000 ft²). The size of the total site is 320 000 m² (79,5 acres).
Asco has chosen Stillwater Oklahoma as the place of its investment because of its convenient location, attractive workforce, and extensive training and research capabilities.
Stillwater is centrally located, with quick and easy access to Asco's customers in the continent.
The Oklahoma State University, with an excellent reputation in aerospace and well known specialists in relevant research fields for Asco, as well as the state of the art Meridian Technology Center for training, are important assets that will support Asco's industrial growth.
Stillwater's extensive manufacturing tradition together with the proactive industrial environment of the city and state proves advantageous for Asco. The Oklahoma Department of Commerce, local Stillwater officials and the Stillwater Chamber of Commerce have been open and understanding to Asco's needs making this new Asco location a possibility.
A strategic fit for Asco
Asco has taken this step forward to continue cooperating in a closer location with its North and South American clients, and to further consolidate a base to respond to demands in the continent.
"The Asco family grows to become larger and more global, consolidating an attractive positioning to respond to customer demands in the Americas", said Christian Boas, CEO Asco Group
The new Oklahoma plant constitutes a great opportunity for a state of the art lean manufacturing facility that will comprise machining, heat and surface treatment and assembly of complex machined parts out of titanium, steel and aluminum.
With this complete manufacturing flow unit in the American continent, Asco prepares its successful achievement aerospace demands, including an important ramp up of new and legacy programs. To accomplish industry needs Asco will invest 100 million USD over the next coming years.
The United States also constitutes a natural choice for Asco as it will allow the company to trade in the same currency it sales, better balancing its euro/dollar ratio.
Asco in America
In 2012 Asco started a dedicated design center to serve the American continent in Mulkiteo Washington. The office provides solutions for Research, Technology and Design activities.
With the set-up of both a fully equipped American manufacturing unit and a design center in the United States, Asco strengthens its position as a preferred supplier to its customers.
The consolidation in the American continent represents a strategic fit for Asco and adds to its global positioning with operating production sites in Belgium, Germany and Canada and its service offices in Brazil and France.
About Asco
Asco, incorporated in 1954, is a proven technology specialist and supply chain integrator in design, development, precision machining, processing, and certified assembly of complex high strength metallic aircraft components (high-lift devices, landing gear components, and engine attachments).
Headquartered in Zaventem Belgium, Asco has three manufacturing plants in Belgium, Canada and Germany, an engineering office in the United States, a procurement office in Brazil and a commercial office in France.
Today, the Asco Group employs 1,300 people. Its worldwide, 100% Aerospace customer base includes most aircraft manufacturers as well as many related Tier-1 and Tier-2 suppliers.
http://www.asco.be
Contact:
Press@asco.be
asco@asco.be