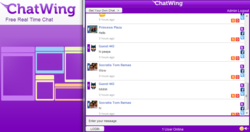 Cambridge, MA (PRWEB) July 05, 2012
The Chatwing dev team is now ready to expand in the Weebly community by launching a shoutbox aimed for product reviewers. This chat tool has also been introduced in other famous blogging sites such as Wordpress and Posterous. According to the research of the team, product reviewers comprise a large percentage of Weebly community, and they need better ways to communicate to web surfers. The Chatwing tool achieves this purpose by making a blog or website active. Additionally, Chatwing is also known for its relative ease of access.
Chatwing has started making its mark through blogging communities. The shout box may appear as a normal chat application, but its global potential is high. In fact, the simplicity of the Chatwing tool has contributed to its overall online rank, emphasizing the fact that people appreciate simple programs over complicated ones. Chatwing is also known for its social media integration. Through this, users can now log in with their respective Facebook or Twitter accounts. This is useful for Weebly users in terms of social expansion.
Back then, the Chatwing web chat tool almost struggled in gathering sign-ups worldwide. To cope with this, the Chatwing team has reached out to bloggers and noted their concerns. Prior to their research, the team has also noted that product reviews are as common as journal entries. The Chatwing team believes that a product review blog will perform effectively with the help of an embedded chat box.
The development team of Chatwing is always dedicated to the pursuit of better website chat experience. Aside from the Weebly community, the Chatwing team will continue their expansion to other online sectors as well. This is to ensure that people will always gain the proper communication leverage that they need. The team will also maintain a blog and Facebook page to keep users well-informed.
About Chatwing.com
Chatwing.com has developed live chat software for websites and blogs. It caters to different online communities due to its high rate of connectivity. Everyone can create a customizable live chat box feature in 1 minute or less. Users have the ability to customize the size, color, and fonts of the chat product. The ability to chat via social media accounts such as Facebook and Twitter enable Chatwing to offer a personal and unique real-time experience to all sites. Chatwing is 100% free and very easy to use.