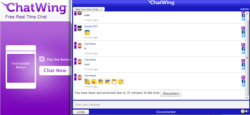 New York, NY (PRWEB) July 05, 2012
The Chatwing team has recently expanded to the fashion blogging niche in the Tumblr community. This was made possible by introducing a global chatbox that can help fashion bloggers gain the online presence they truly need. The Chatwing chat tool is all about proper online communication and blog interaction—a strong reason why thousands of people in different online communities have used it. Aside from blogging, the Chatwing tool has also excelled in communities such as gaming, technology, online marketing, dating, Facebook, and current events.
Tumblr fashion bloggers have also benefited from Chatwing's social media integration. Through this feature, blog visitors can now log in with their Facebook or Twitter accounts. This is useful for people who want to expand their social networks. In a general sense, fashion bloggers can use the Chatwing shoutbox to interact with their visitors in real time. This simply means that the Chatwing tool entails moderate to high visibility in the long run. Chatwing's easy installation mechanism has also benefited a lot of bloggers. Installing the chat widget takes only a few seconds and the customization rate is high.
The Chatwing dev team has also tweaked the chat platform, raising its normal user capacity to 600. In the long run, the team is planning to upgrade the capacity to 1000. The team is also planning to expand to other blogging sites in order to help more bloggers gain the visibility they truly deserve. At this rate, the Chatwing web chat tool will continuously climb in terms of online ranking and many people will be able to use its communication potential well.
To ensure that the satisfaction rate of people will remain all-time high, the Chatwing team will work for continuous hours. By empowering website chat, many bloggers from different communities will have a rewarding blogging experience.
About Chatwing.com
Chatwing.com has developed live chat software for websites and blogs. It caters to different online communities due to its high rate of connectivity. Everyone can create a customizable live chat box feature in 1 minute or less. Users have the ability to customize the size, color, and fonts of the chat product. The ability to chat via social media accounts such as Facebook and Twitter enable Chatwing to offer a personal and unique real-time experience to all sites. Chatwing is 100% free and very easy to use.