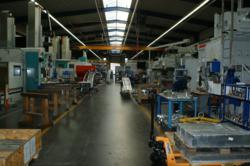 Farnborough UK (PRWEB) July 11, 2012
Asco has been awarded by Otto Fuchs with the work package to provide the E-Jet 190 ribs 5 and 9 for the wing main box for the Embraer jets E-190 and E-195.
The parts will be manufactured in Asco Deutschland, center of excellence for large structured aluminum parts of the Asco group, located in Gedern Germany.
As sole source provider, Asco has signed a contract with its client for 4 years with a minimum delivery of 360 ship sets.
The new package will run under the responsibility of Paul Hiel, new plant manager of Asco Deutschland with 25 years of experience in the manufacturing industry.
Under the contract award, the Asco group extends its work share on components for both the E- jets 190-195 and Asco Deutschland further consolidates its position as complex mechanical assembler and manufacturer for large structure aluminum parts.
About Asco
Asco, incorporated in 1954, is a proven technology specialist and supply chain integrator in design, development, precision machining, processing, and certified assembly of complex high strength metallic aircraft components (high-lift devices, landing gear components, and engine attachments).
Asco is headquartered in Zaventem, Belgium with operating subsidiaries in Germany and Canada combined with service offices in Brazil and the US. Today, the Asco Group employs 1,300 people. Its worldwide, 100% Aerospace customer base includes most aircraft manufacturers as well as many related Tier-1 and Tier-2 suppliers.
http://www.asco.be
Contact:
Press(at)asco(dot)be
asco(at)asco(dot)be
About Otto Fuchs KG
Otto Fuchs is an industrial leader in forged, extruded and ring rolled products of Aluminium, Magnesium, Titanium, Nickel and Copper materials to worldwide OEMS and their tier suppliers in the Aerospace, Automotive, Construction and General Engineering industries.
Otto Fuchs has been a family-owned business from the date of its foundation in 1910. Today, the Otto Fuchs group employs 9000 people in 4 continents, including the Aerospace activities in Meinerzhagen, Germany and Paramount CA, USA.
The strategic expansion into the supply of finished parts takes advantage of 40 years of experience in the automotive industry.