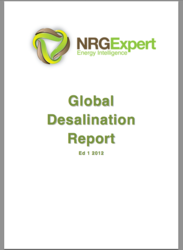 Global capital expenditure on new and replacement desalination plants is expected to grow from USD 6 billion in 2010 to USD 18 billion in 2015
(PRWEB UK) 19 July 2012
Facts About Water Desalination

Global capital expenditure on new and replacement desalination plants is expected to grow from USD 6 billion in 2010 to USD 18 billion in 2015
By 2015 O & M will grow from USD 7.1 billion to USD 16.3 billion, mostly from the private sector
Currently there are over 15,000 water desalination plants in over 100 countries worldwide
Over 65 million m³ per day of water desalination capacity is currently in operation and over 71 million m³ per day contracted
As the price of desalinating water is falling all the time and may be equal to freshwater extraction in 2020 it is becoming more appealing to government decision makers.
What is desalination?
Desalination is the removal of salts from water to produce water with a lower salinity. Industries which require ultra pure water produced from desalination are on the rise e.g. pharmaceutical and semi-conductors.
Where is water desalination growing?
NRG Expert's water desalination market research report reveals:
The Gulf area will continue to be the largest market, with its rapidly growing populations, depleted ground water resources and the need for replacement capacity for old desalination plants.
But the use of desalination is growing in the Mediterranean countries, too. Notably in Morocco, Algeria, Tunisia and Spain.
The municipal market in the US is expected to grow, with more communities becoming favourable to desalination
China and India both experience acute water shortages and have the two largest populations in the world. This together with rapid industrialization means they require huge water consumption. Both are constructing desalination plants.
Why is water stress increasing?
NRG Expert's water desalination market research report highlights that water stress is due to limited fresh water supplies, and in many parts of the world water usage exceeds renewable water capacity. Ground water supplies are often being over-exploited while rising temperatures and declining annual rainfall have led to increased evaporation of surface water. Increasing industrialization has also led to higher incidents of water contamination.
What are desalination technologies?
There are two principal types of water desalination technologies in current use: distillation or thermal (MSF - multi stage flash distillation or MED – multi effect desalination), including cogeneration of electricity and water; and membrane, mainly reverse osmosis (RO), followed by electrodialysis (ED).
Where do I find market research on this topic?
NRG Expert's analysts have reviewed the global desalination market place to find out which countries are investing and why. The latest water desalination market research report covers mobile desalination plants, energy recovery devices, waste management, desalination technology, desalination market place and investment potential and more.
To find out more, click here to review these reports:
>> Global Guide to Water and Waste Water Utilities Report - Statistics and Data
>> Global Desalination Report - Statistics and Data
Contact:
Edgar van der Meer
NRG Expert +1 (416) 840-5847
+44 (0)20 8432 3059
edgarv(at)NRGExpert(dot)com
http://www.NRGExpert.com
Background information
NRG Expert is a London and Toronto based energy intelligence and market research publisher. NRG Expert provides up to date information and analysis on worldwide energy markets, including water desalination market research reports, databases, energy market analysis, market forecasts & consulting. Visit http://www.nrgexpert.com for further information.
### ENDS ###
Statistics and Data: NRG Expert's Global Guide to Water and Waste Water Utilities Report, NRG Expert's Global Desalination Report 2012