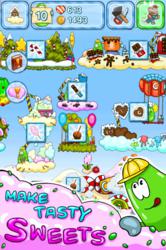 I'm so addicted to this game! [...] u will LOVE IT. (App Store user review)
(PRWEB) July 06, 2012
Stark Apps' Candy Island is a new cute candy factory simulation game for the whole family. Sweets-loving players can build the greatest candy store now on their Android devices!
Candy Island's many adorable inhabitants are lost without the player's help! Only together can they rebuild it to its former glory and sweetness.
Players will be challenged to manage their candy store and production cleverly to satisfy ever more demanding customers and explore the wonders of Candy Island.
With many lost recipes to discover and the evil Dr. Zog (who stole all candy) to search for, players will never be short of adventurous tasks either.
Trailer Video: http://youtu.be/-M6cb0mrSOw
Screenshots: http://www.facebook.com/candyislandapp/photos
Players of the iOS version of Candy Island say it best:
"Candy Island totally 5 stars"
"I'm so addicted to this game! [...] u will LOVE IT."
"So good it should be $3.89 instead of free"
What's special about Candy Island:
· Players build a cute candy factory in a fantasy land high up in the clouds
· Full of adorable Beanies who will work hard... except when they doze off
· More than 100 unique manufacturing clouds and decorations to build
· Players will follow an interesting back story told across dozens of missions
· Players can unlock a lot of content without purchasing any premium currency
· Playable without a permanent Internet connection
· Facebook integration enables players to play with their friends and send gifts
The whole family can play and have fun together in this beautifully imagined simulation game for Android and iOS devices.
Candy Island is downloadable for free on Google Play and iOS App Stores.
Candy Island was released on the 29th of June, 2012.
It was developed by Austrian independent game development studios Modern Alchemists and Stark Apps over the course of one year. The game will continue to be supported with regular updates by the developers.
Download link on Google Play Store: https://play.google.com/store/apps/details?id=com.candycorp.candyisland
Game Website: http://candyislandapp.com/index.html?utm_medium=pr
Download Press Kit: http://candyislandapp.com/files/press_kit.zip
About Modern Alchemists
Formed in January 2011, Modern Alchemists is devoted to converting creative ideas into compelling games. Modern Alchemists' games are primarily available on mobile devices like the iPhone, iPad, Android or Windows Mobile. Modern Alchemists was founded by four graduates of the University of Applied Sciences Hagenberg in Upper Austria.
About Stark Apps
Founded in 2010, Stark Apps develops mobile games for iOS and Android.
Past releases include the "iDestroy" series for iOS and Android, and "Pocket Bugs" for iOS.
Stark Apps was founded by two graduates of the University of Applied Sciences Hagenberg in Upper Austria.
Contact Info
press (at) starkapps (dot) net