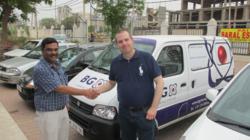 "I am very pleased at the swift progress that BG Cleaning Systems is making in Delhi. The future is brighter for the cleaning industry in Delhi with BG in the region to bring about a positive revolution in the business", says BG CEO, Benedikt Hjálmarsson.
Delhi NCR, India (PRWEB) July 04, 2012
BG Cleaning Systems continues to move forward its franchise expansion in India with its participation at the Times Franchise Expo in Delhi, India on 7-8 July 2012 at Pragati Maidan.
BG Cleaning Systems is a leading international cleaning & facility services company that offers a wide gamut of services from housekeeping services to specialized cleaning services, and also provides facility services. BG is well known for its high quality standards, and for its dynamic and innovative concepts and systems which address the market's cleaning needs in a unique and systematic yet personalized manner.
BG is now searching for qualified Unit Franchise Partners in Delhi NCR. We are seeking franchises in Gurgaon, Noida, Faridabad, Meerut, Ghaziabad, and all regions of Delhi Including West Delhi, North Delhi, South Delhi & Central Delhi. Its professional franchise team will be at the said exhibition to meet with interested and qualified business entrepreneurs who have good business acumen and the right bandwidth. The initial investment needed to avail of a BG unit franchise is around 14-15 lakh Rupees for which each franchise will get an exclusive zone, the equipment and a 14-day training program at Iceland.
BG Cleaning Systems Delhi NCR launched its operations in June 2012 under the able leadership and management of Mr. Amitabh Pandey, the Master Franchisee for Delhi NCR. BG Delhi is now offering housekeeping services, special cleaning services and facility services to government institutions, commercial establishments, SMEs, hotels, schools, stores, private institutions, malls, apartment buildings, and all other types of facilities while adhering to BG's strict international standards.
" Everywhere we go, the need for professional cleaning services always exists. BG Cleaning Systems devotes itself to addressing this basic need in the market and to bring the cleaning industry of India to a superior level of excellence," states Mr. Pandey.
Among the housekeeping services offered by BG Cleaning Systems Delhi to its diverse clientele are daily cleaning services and regular cleaning services. To complement and augment these services, BG also caters to the special cleaning needs of both the public and private sectors. In addition to these, BG furnishes its customers with facility services which include messengerial services, office assistant services, pantry services and more.
BG Cleaning Systems Delhi's services are customized to the client's needs and requirements while being geared for Customer Satisfaction and aimed for Excellence.
BG Cleaning Systems is a systematic yet flexible organization, making it your ideal business partner anytime, anywhere.
Mr. Amitabh Pandey will be gracing the said event this weekend together with Mr. Amit Nahar, the BG Cleaning Systems Head of Franchise Development for India.
For more information on BG Cleaning Systems Delhi, go to http://www.delhi.bgcleaning.com.
For further details on BG Cleaning Systems India or to book an appointment with BG's competent Franchise Team, go to http://www.bg-cleaning.co.in or contact Mr. Kashif Hussain at (+91) 984 444 1300 or send an e-mail to india(at)bgcleaning(dot)com.