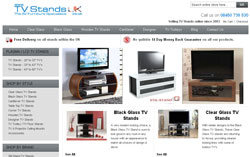 With a large selection of designer, wood, glass and many other TV stands and mounts, TV Stands UK offers a choice for every occasion
(PRWEB UK) 6 July 2012
Nine years ago, TV Stands UK was set up with the aim of providing a first class service to all. Now, as their 10th birthday approaches, the Yorkshire based company have teamed up with Magento – one of the world leaders in e-commerce software – to provide a new look website and make it easier for customers to find what they are looking for.
Not only have TV Stands UK had a complete website re-design, but they have announced two complete new ranges from Exelium and STIL. Exelium's range of Wall Mounts and TV wall brackets will be joining Premier in providing wall mounting options for your television, while the French manufacturer's range will bring more choice and customisation to customers. Joining their x-flat selection of close hanging mounts will be their innovative Slide patented sliding wall mount system. This allows the TV to be positioned as close as 35mm to the wall, while the slide technology allows it to be moved away from the wall and rotated in every direction.
Exelium's wall mounts will also be joined by a range of TV stands from STIL, the 26 year old UK producer. STIL Stands' range of TV stands will join the selection on offer from other reputable manufacturers such as Peerless and Iconic, offering customers more choice and a larger selection. With their experience in the market, TV Stands UK are very pleased to welcome them to the range.
TV Stands UK continues to offer free delivery on all orders of TV stands, trolleys, mounts and brackets. Should the order be received before 1:30pm, the delivery will usually occur on the next working day. As TV Stands UK feels keeping the customer happy is of the greatest import, this free delivery is set to continue into the future for all UK orders. Should you wish to return the order, then there is also a 14 day no quibble return policy. If you are unhappy for any reason, TV Stands UK will arrange to pick up the purchase and offer a full refund.
With a large selection of designer, wood, glass and many other TV stands and mounts, TV Stands UK offers a choice for every occasion and the team-up with Exelium and STIL extends this range further.
About TV Stands UK
TV Stands UK was formed in 2003 in Hull, East Yorkshire and has been selling TV Stands and Wall Mounts online for nearly 10 years. They have built the business around offering a high street shopping experience at low internet prices and providing a high level of customer service.
TV Stands UK offers a large range of TV stands and wall mounts to fit any TV and any style, whatever the design of the room.