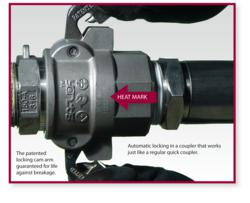 Heat mark identification ensures accurate and timely origin of products
(PRWEB UK) 5 July 2012
The addition of the heat mark now allows ASL to issue documentation to 3.1, enabling the customer to trace the product right back to the raw material used in its construction.
As each part carries a heat mark identification number, standard product can be used from stock at a very competitive price. No longer would customers have to wait for a lengthy period for the product to be manufactured especially and pay for small batch quantities to be produced.
Shipments of stainless steel camlock couplings from the factory are accompanied by the material certificates which correspond to the heat numbered couplings. This documentation is held on our system and certificates issued accordingly once the stock has been picked, identified and made ready for despatch.
ASL has identified the need by industry to control and authenticate the origin of the products back to the raw material used in its construction, as using the wrong material in conjunction with an aggressive media could be disastrous. ASL recognises that operator safety and the environmental issues are paramount.
Action - Sealtite is based in Didcot, Oxfordshire. The company is a leading supplier of dry disconnect couplings and also provides a comprehensive range of quality hose couplings and fittings by established brand manufacturers.