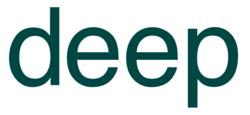 Our PR and communications team is better than ever, and clients are seeing great results.
Springfield, MO (PRWEB) July 10, 2012
The ad agency deep today announced it has recently hired two new team members to its in-house public relations (PR) and communications staff. The move better positions deep to provide PR that reflects the food branding and marketing campaigns it crafts for clients. Deep Vice President of Account Services Valeri Lea noted, "Hiring Amy Rosendahl as our public relations manager is a huge benefit to clients, and they've already begun seeing the value her experience provides their brands. Adding Courtney Current as our PR intern is great for deep, for our clients and for both Amy and Courtney. Our PR and communications capabilities have never been stronger."
Rosendahl joins the food marketing group deep after gaining more than seven years experience with PR communications, media relations and social media. Recently serving as PR Manager at another agency, she managed national PR programs for many major clients, including Sam's Club, Smucker's Foodservice, Otis Spunkmeyer, Manitowoc Foodservice and The Food Channel. Through this experience, Rosendahl developed extensive insight into effective PR for both business-to-business and consumer-focused clients, making her a perfect fit with deep.
Along with her experience supporting food branding campaigns, Rosendahl's leadership skills led deep to choose her over other candidates for the PR management position. As Lea put it, "After vetting numerous impressive people, Amy's ability to cultivate leadership and create growth for clients made her our clear choice. We wanted a PR manager who could take our clients deeper in this digital age, and her talent for social media messaging and interaction with users is doing just that."
Rosendahl has a history of impressive results, and showing foodservice operators the related data makes selling food to restaurants much easier. For example, in 2011 alone her work led to an astounding 170% growth in new facebook followers for The Food Channel. In the same year, Rosendahl more than tripled The Food Channel consumer database, and by creating an entirely new, inviting email newsletter she gained nearly 10,000 new subscribers. Her creative writing skills led to still more exposure for The Food Channel, as her work for the The Food Channel was published in multiple national and international trade publications, resulting in dozens of new domestic and international clients.
After spending the first few years of her career in Kansas City, Rosendahl—a Missouri State University grad—is glad to be back in Springfield, Mo., where deep is managed. "I've known for years that deep is really breaking boundaries for creative branding," Rosendahl said, "and I'm thrilled to finally be a part of that and to lead the expansion of our capabilities in the PR discipline. I'm also loving working with Courtney as she hones her PR skills. Her ability to speak and write Spanish is a nearly invaluable asset as we communicate for clients in this global economy, and she's already thriving at deep."
Current added, "I can't tell you how lucky I feel to experience real PR work with such an innovative agency. Since graduating in May, working at deep has only added to my career focus. Having Amy and the rest of the deep group as a safety net during my internship is awesome. They demand the best and give me enough freedom to do the job, yet they also give me plenty of support and guidance to guarantee the client and I both get exactly what we need. It's really a great place to work, and I'm learning what it takes to grow a brand and keep every client happy."
deep
A food marketing group founded in 2005, deep has since gained a reputation for producing inspired branding campaigns in both B2B and direct-to-consumer advertising. With breakthrough creative, the agency engages consumers and keeps its clients' brands top of mind. Headquartered in Springfield, Mo. as part of the Marlin Network, deep is independently and completely employee owned. Marlin Network represents over 70 food and beverage brands and is consistently the number one purchaser of foodservice media. In addition to deep, Marlin Network consists of The Alchemedia Project, Marlin, Marlin Network Consulting, FoodIQ and STARAwards. The Network has achieved inclusion in Inc. Magazine's 2010 and 2011 lists of America's Fastest Growing companies as a member of the global Transworld Advertising Agency Network. For more information, visit deepgroup.com or follow them on Twitter, Facebook, Flickr and the b!eep blog.