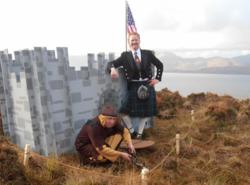 Interest soaring in America
(PRWEB) July 06, 2012
The perception of what 'class' is and what it represents varies on either side of the Atlantic, according to the newly titled Lord Morgan Spurlock. Spurlock, who hails from West Virginia, believes that upward mobility is more easily found in the USA than in the UK.
In order to put his theory to the test, Spurlock purchased land from Highland Titles and obtained the legitimate right to style himself as Lord Morgan Spurlock of Glencoe.
With a little bit of assistance from a GPS navigation device, the kilted Lord Morgan located his 100 square foot plot on Keil Hill, overlooking the stunning Loch Linnhe. Whilst the norm for newly titled landowners is to camp on their plot, Lord Morgan chose to build a wooden castle and employ the services of a grass-cutting servant. With the American flag flying proudly in the background, Spurlock warned trespassers to keep off his land!
Perhaps it is a result of having no aristocracy in America that its people tend to categorize one another based on the amount of money they have or the level of success they have enjoyed.
This is in stark contrast to the class system that still exists in Britain today. According to research carried out during the show, British citizens are likely to make assumptions of ones class based on a completely different set of criteria, such as education, their accent or even what class their parents are.
To highlight the differences between the two countries, Spurlock makes an amusing comparison between Her Majesty the Queen in the United Kingdom and Queen Latifah, the famous rapper and actress in the USA.
It is testimony to the popularity of Highland Titles that the comedian Russell Kane, appearing guest on the show, admitted to having a Lord title of his own. Kane had updated his credit cards and identification to reflect his Lordly status whilst he was a student, and he commented that he enjoyed the 'double-take' that till-operators gave his credit card in the supermarket.
A spokesperson from Highland Titles said that interest in their product was soaring in America, which is home to more than five million people with Scottish ancestry.
"There are more people in America with Scottish ancestry than there are people in Scotland. It's extraordinary. As a result of growing American interest, our company will be attending several Highland Games events in America later this year. We hope we are able to meet some of our American customers - and gain some new ones!"
Footage from the TV show can be viewed by clicking here.