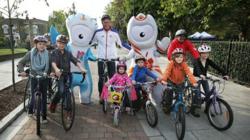 This is not just about providing people with an alternative to public transport for Games time, it's about inspiring the UK to get active.
(PRWEB) July 04, 2012
The Active Travel programme has now made it even easier to walk or cycle to the London 2012 Games, with the introduction of new maps, guides walks and cycles, and cycling services and facilities.
The new services and resources include:

London 2012 is the first Games to run a programme of this scale, and is working with Transport for London (TfL) to use the power of the Games to encourage walking and cycling across the UK.
Organisers are aiming to enable around 300,000 spectators to walk or cycle their whole journey to venues in London by foot and cycle and many more to incorporate walking or cycling within their journey. TfL anticipates an additional one million active travel journeys every day across London during the Games.
The new phase of the programme means there will be 18,800 (in total) free cycling parking bays covering all venues, with 7,000 at the Olympic Park alone. As well as a free 'keep you going' cycle maintenance, which is available at the Olympic Park, Box Hill, Hampton Court, Hadleigh Farm and Brands Hatch.
The guided walks and cycle rides show off some of the best 'off-road' walking and cycling routes in London and around the UK. They allow spectators to travel with experienced walk and ride leaders, giving you confidence that you will arrive safely, on time and without getting lost. Some of the longer walks allow you to go from Kings Cross to the Olympic Park, Canary Wharf to the North Greenwich Arena or even all the way from Tottenham Hale to the Olympic Park.
Also launched today is TFL's revised London Cycle Guide for the Olympic Park and surrounding area. The map highlights the variety of on and off road cycling routes available and shows the Games time diversions and temporary spectator cycle parking locations. It is available to order online from http://www.tfl.gov.uk/cycleguides.
A family that is taking full advantage of the Active Travel programme during their stay in London is the Walker family from Cheltenham. Jim Walker, his partner Bronwen and four children, Noah (6), Toby (13), Ben (16) and Jake (18) have planned their walking route along the Jubilee Greenway to the Olympic Stadium, to watch the Paralympic Wheelchair Rugby, using the spectator journey planner.
Bronwen Thornton said: "We're really looking forward to walking to the Games and Noah is especially excited that he can bring his scooter with him to beat his brothers back to the hotel. It's fantastic that there are such great routes for us to use. This way we know we get to burn off some of our own energy and make sure we don't miss seeing any of the athletes burning theirs!"
Mark Foster, former Olympic swimmer and local resident, said: "The range of services available to spectators walking or cycling to Games venues is great. I live locally and hope to cycle to the Olympic Park so will be testing out the cycle parking and possibly the cycle maintenance too! I hope these will encourage more people to walk and cycle, both to their Games events and in the future."
David Stubbs, Head of Sustainability, London Organising Committee of the Olympic and Paralympic Games said: "This is not just about providing people with an alternative to public transport for Games time, it's about inspiring the UK to get active. The long term aim is to change people's mindsets, to show them how simple it can be and what a great alternative way to travel it is."
Ben Plowden, Director of Planning, TfL said: "The new London Cycle Guide covering the area surrounding the Olympic Park is just one of a number of initiatives delivered as part of the London 2012 Active Travel programme. It maps how the upgraded routes feed into the city's wider cycling network, showing how cyclists can travel around the Olympic Park and the location of the temporary spectator cycle parking areas. The improvements made to routes will be a legacy for Londoners long after the Games have finished, helping to encourage an already rising number of cyclists in the Capital."
Hugh Sumner, Director of Transport, the Olympic Delivery Authority said: "Cycling is a fun and healthy way to get around during Games-time. The ODA and its partners have made a significant investment to ensure London 2012 is a sustainable transport Games. All London 2012 venues are accessible by bike and free, secure, managed cycle parking will also be available at each location. During Games-time there will be more than 16,000 temporary cycle parking spaces for spectators at Games venues, with around 7,000 spaces serving the Olympic Park alone.
A total of £10m has been enhancing 75km of East London's paths through the 2012 Games Walking and Cycling Routes, a scheme conceived by charity Sustrans, funded by the Olympic Delivery Authority (ODA) and delivered by TfL and partners. Altogether more than £20m has been spent on routes, mapping and services, so that spectators may choose to cycle and walk to the Games."
Booking systems are now open, so please go to the walking and cycling pages on http://www.london2012.com/travel. Spectators can also check the venue information for their recommended arrival time.
Notes to editors:
About the Active Travel Programme:
When London won the bid to host the Games, we made a commitment to make them as sustainable as possible. The Active Travel programme has been developed to help deliver this promise and to inspire people of all ages to become more active through walking and cycling.
In addition to helping people live healthier lifestyles and enjoy the attractive surroundings the UK has to offer, walking and cycling are crucial to easing pressure on the public transport and road network during the Games.
We have invested over £10m in making improvements to over 75km of key walking and cycling routes leading to London 2012 venues both in and outside London.
These improvements have been designed with legacy in mind and are integrated with the wider transport network, to ensure trips can easily be combined with other modes. Find out more about the enhancements on our walking and cycling pages.