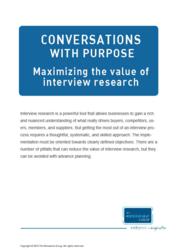 It's not enough to understand the importance of qualitative research. Conducting it effectively is key.
Toronto, ON (PRWEB) July 05, 2012
The Mezzanine Group's newest white paper outlines how business to business (B2B) companies can maximize the value of qualitative research.
The white paper, "Conversations with Purpose: Maximizing the Value of Interview Research," will give B2B companies a thorough look at what is required to effectively conduct qualitative research. It delves into research objectives, research approach, and techniques to attract interviewees. It also identifies a methodology for effectively capturing and analyzing the research data while avoiding common pitfalls.
"It's not enough to understand the importance of qualitative research," says Meredith Low, vice president consulting at The Mezzanine Group. "Conducting it effectively is key."
"When done properly, interview research can be an invaluable tool that provides rich insight to shape business decisions, applicable to company strategy, sales, marketing, customer service, and operations. This is often best realized by engaging a third party who fully understands the qualitative research process, assuring sponsor and interviewee confidentiality, and who can assess the results thoroughly and objectively," adds Low.
The paper can be downloaded from the Mezzanine website at: bit.ly/MH6oHB
About The Mezzanine Group
The Mezzanine Group is a Business to Business (B2B) Strategy and Marketing firm based in Toronto, Canada. For over a decade, Mezzanine has helped executives in small and mid-sized companies, large enterprises and professional associations to improve the function and performance of their marketing through market intelligence, marketing strategy and execution. Mezzanine has twice been named to the PROFIT 100, Canada's definitive list of fast growing companies.
For more information about The Mezzanine Group visit http://www.themezzaninegroup.com or contact us at (416) 598-4684 | info(at)themezzaninegroup(dot)com.
Copyright (C) 2012 The Mezzanine Group. All rights reserved.