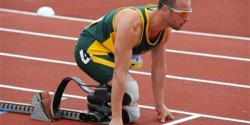 To have been selected to represent Team South Africa at the London 2012 Olympic Games in the individual 400m and the 4x400m relay is a real honour and I am so pleased that years of hard work, determination and sacrifice have all come together
(PRWEB) July 04, 2012
Oscar Pistorius will make history by becoming only the sixth athlete ever to compete at the London 2012 Olympic and Paralympic Games.
The 25-year-old has been chosen for the Olympic individual 400m and 4x400m relay team before defending his T44 100m, 200m and 400m titles at the Paralympic Games, becoming the first man ever to compete in both Games in a summer.
Pistorius' individual 400m place had looked doomed after he missed his final opportunity to clock a sub-45.3second time - the Olympic 'A' standard time - at the African Championships in Benin last week.
However, the South African Sport Confederations and Olympic Committee (Sascoc) overlooked its selection policy by naming Pistorius in its London 2012 squad on Wednesday.
"Today is truly one of the proudest days of my life," Pistorius said in a statement.
"To have been selected to represent Team South Africa at the London 2012 Olympic Games in the individual 400m and the 4x400m relay is a real honour and I am so pleased that years of hard work, determination and sacrifice have all come together.
"I have run two Olympic 'A' standard times over the past 12 months and with the time I ran at the African Championships last week I know my speed and fitness are constantly improving so that I will peak in time for the Olympics."
Pistorius helped South Africa to 4x400m silver at the World Championships in Daegu last year, although he did not take part in the final.
The South African is known as "the fastest man on no legs" and competes with the aid of prosthetic running blades, hence his other moniker 'Blade Runner'.
Pistorius was born without fibulas, one of the bones that runs from the knee to the ankle, and had both legs amputated below the knee when he was just 11 months old.
"Today is really one of the happiest days of my life! Will be in @London2012 for both the Olympic and Paralympic Games!" he tweeted.
"Thank you to everyone that has made me the athlete I am! God, family and friends, my competitors and supporters! You have all had a hand!"

A comprehensive guide to classification in athletics is available on the IPC's website
For all your latest news ahead of the 2012 Paralympics, follow @C4Paralympics on Twitter and like the C4Paralympics Facebook page