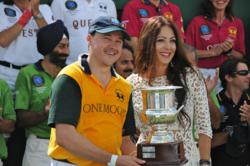 Los Angeles, CA (PRWEB) July 09, 2012
One Moon was proud to host the Sponsors Dinner for the 15th Annual Mashomack International Polo Challenge in Pine Plains, NY on June 15. The dinner was held in honor of their Highnesses the Maharaja and Maharini of Jaipur and the visiting Royal Jaipur Polo Team of India.
The following afternoon on the polo fields, Team One Moon handily won its matches versus Castello di Vicarello of Italy and the Royal Jaipur Polo team finishing the day one point short of overall victory. One Moon rider Shane Finemore was presented the Mathias Guerrand-Hermes trophy by fashion designer Catherine Malandrino for his outstanding efforts on the field.
The Polo Invitational is the marquis event at the Mashomack Polo Club. Set against the rolling hills of the Hudson Valley, an international field of players competes for team, individual and pony honors. Under the tent, a well-heeled crowd enjoyed an afternoon of Pims and polo.
Other sponsors for this years event included Quest Magazine, the Carlyle Hotel, Catherine Malandrino, Vikram Chatwal Hotels, La Martina, Moet et Chandon and Nespresso.
One Moon LLC is an emerging luxury brand with elegance at its core and philanthropy in its heart. With the belief that warmth is not a luxury but a human necessity, One Moon debuts with the Californian, a tailored cashmere poncho embellished with details including leather and suede trims. A portion of each sale will be forwarded to the One Moon Foundation to assist in its mission of providing warmth to the homeless. The line will soon expand to include unique items directed towards the luxury gift market. The One Moon Foundation is being founded in tandem with the luxury brand to fulfill its obligation of Warmth for warmth. The Foundation partners will partner with established nonprofit shelters to acquire and distribute needed resources including sleeping bags to persons in need.