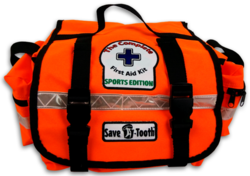 The only Sports First Aid bag with the Save-A-Tooth System
Wayne, Pa (PRWEB) July 06, 2012
"What should I do with the teeth," he panicked. "I read something about putting them in milk but there's no milk on a basketball court."
He would have been covered if he had the new Complete Sports First Aid kit with the new Save-A-Tooth® knocked out tooth preserving system, the only medical, American Dental Association accepted emergency device that can store, preserve and transport knocked out teeth for twenty four hours.
Coach Johnson is confronted with the same problem that every sports team faces: Summer is here and, somewhere, at some time, millions of kids and adults will be playing in sports activities and, over five million teeth will be knocked out, thousand of fingers will be bent and concrete will scrape knees.
So every sports team needs a great, easily purchased on Amazon.com Complete Sports First aid kit on the sidelines or else it could cost the athletes thousands of dollars in dental bills.
Phoenix-Lazerus, Inc. has designed a new and Complete sports first aid kit that helps parents, athletic trainers and coaches prepare for all injuries that can occur on any playing field and that no other sports bag can take care of.
"This kit has been well thought out," says Dr. Paul Krasner, member of the Academy of Sports Dentists. "It's not just a bunch of adhesive strips stuffed into a flimsy bag," he emphasizes. "It contains the widest variety of the highest quality components of any other sports bag that can treat all minor and some major injuries that can occur on any sports playing field."
One of the real features of this sports first aid kit is that it is the only Sports First Aid kit that has two Save-A-Tooth® knocked out tooth storage systems. Why two Save-A-Tooth® systems? "Because during a sporting event, if two athletes smash their heads together, both knocking their teeth out, the knocked out teeth of different individuals can't be placed in the same Save-A-Tooth®," Dr. Krasner answers and adds, "I've seen it happen." "No coach wants to have to make a "Sophie's Choice"
"Having a Save-A-Tooth® brings sports medicine into the 21st century," says Dr. Henry Rankow, Professor of Dentistry at Temple University. "Some people still think that using something like milk to transport knocked out teeth is modern medicine. It's an idea that was fine thirty years ago but now it's in the same category as shark cartilage," he laughs.
"Over 90% of knocked out teeth can be saved if a Save-A-Tooth® system is used within 60 minutes of the accident," says Dr. Rankow. "That's why it is so important to have in a Sports bag. When the sporting event occurs on a remote playing field, there is no time to go and find one."
A really good sports first aid kit starts with a great bag. This bag is well constructed and made of tough, double thickness nylon and meant to withstand the rough handling that naturally occurs with sports sideline activity. When Coach Johnson reached into his inexpensive bag, he would have found that all the bandages were wet and the ointments crushed by the flimsy walls. This bag has two large side pockets and one long front pocket that can hold additional long splints that usually won't fit in other bags. There's lots of room for any other items that a coach, athletic trainer or parent would want to include.
In addition to preserving knocked out teeth, the kit will prepare people for problems that aren't usually thought about: insect stings, ticks, snake bites, poison ivy, broken fingers or toes, large and small puncture/tear wounds, and many other injuries in between. It even has a patented cardiopulmonary resuscitation device (CPR).
All of the first aid items in the bag are high quality and USA made. Most other first aid kits contain items that are cheap, poorly made, and some times dangerous foreign imports. "Although a buyer thinks he or she is getting a bargain, it's a poor value. The elastic strips have inferior adhesive that doesn't hold up when the sweat starts pouring," says Dr. Rankow. "The adhesive used in the strips of the Complete Sports First Aid kit is high quality 3M and holds tight to the skin even when it's raining. The absorbent compress material in the kit is made of press weaved polyester that absorbs 10x better than a cotton weave and will not stick to dried blood," Dr. Rankow informs.
When selecting a sports aid first aid kit, quality of the components is much more important than the total number of parts. For example, the gauze in the Complete Sports First Aid kit has four times the weave of Chinese gauze so twenty-five percent fewer pieces are needed and, in addition, no one knows what's in the Chinese gauze. Dangerous chemicals have been found in Chinese imports including children's toys, dog food and toothpaste. "Think about it," says Dr. Krasner, "would you want to put imported, possibly contaminated Chinese gauze on your child's open, bleeding wound in order to save a few pennies?" he questions.
Step into the 21st sports medicine century and purchase the new Complete Sports First Aid kit today.
About Phoenix-Lazerus, Inc.: Phoenix-Lazerus, Inc. is the manufacturer of the Save-A-Tooth® system and distributor of the Complete First Aid kit, The Complete Dental Office First Aid kit and the Complete Sports First Aid kit. It is based in the USA and all of its products are made in and assembled in the USA. The Save-A-Tooth system is also the transport device in the Store-A-Tooth cryopreservation system.