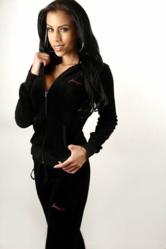 (PRWEB) July 06, 2012
"Everybody Loves Jersey"
"Real Housewives of New Jersey" star Melissa Gorga wears clothing from Tommy Woj's "Jersyde" (pronounced "jer-side") label. Woj says he couldn't be happier—not just for himself, but because it shows that New Jersey has come into its own. "Everybody loves Jersey", he says. "It's taking over. You see it when 'Jersey Shore' gets seven million Google searches a month, and when there's a hit show ('Jerseylicious') about a Jersey hair salon. But Jersyde isn't just for people from New Jersey, any more than Ralph Lauren Polo is just for polo players. I chose the name because it represents the style, and where I'm from."
Long Before the Trend
Founded in 2004, long before the current infatuation with his home state, Jersyde features a men's and a women's line. The feel is upscale, with an urban flavor—"from the streets, but perfectly at home in a mansion", as Woj puts it. Jersyde offers t-shirts for men and matching separates for women in subdued colors and neutrals that are casual enough for daywear, but sophisticated enough for entertaining. And, adds Woj, "they're sexy".
Expanded Line, and a New Web Site
Jersyde is currently expanding its collection, and is revamping its web site to mark the occasion. Jersyde clothing is currently being sold exclusively through its site, http://www.jersyde.com, which was re-launched on 6/29/12.
For further information on Jersyde designs, or to arrange an interview, contact Tommy Woj, at 1.877.JERSYDE (537.7933), or info(at)jersyde(dot)com.