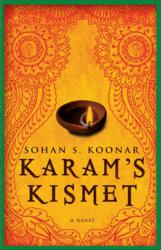 In Koonar's writing there is a distinct connection to noted expatriate Indian authors like R. K. Narayan and V. S. Naipaul.
Toronto, Ontario (PRWEB) July 06, 2012
Sohan S. Koonar is a fresh name in historical fiction authorship. His debut novel Karam's Kismet, about the destiny of Karam Pardesi, an exceptionally gifted 'untouchable' youth, born into the awakening world of pre-war India, gives readers an open window into one of the largest social evolutions of the modern era.
The story is a journey exploring the true meaning of race, clan, caste, religion, mysticism and personal obligation with a delicate touch and a soothing voice. Koonar's first novel is one that offers timeless lessons on life, interwoven within the tapestry of a fast paced story about the ways external and internal forces cause us all to evolve.
As ForeWord Clarion Review writer Barbara Bamberger Scott astutely points out, "Though Koonar is a relatively unknown writer at this time, it is not unreasonable to predict a trajectory, impelled by this panoramic and very human saga, which will bring his name into the realm of well-known and respected writers. In Koonar's writing there is a distinct connection to noted expatriate Indian authors like R. K. Narayan and V. S. Naipaul. One hopes that nothing will hold this book back from the success it deserves."
Kirkus Reviews echoed a similar sentiment, by pointing out that Koonar manages to evoke the historical misery of India's Chura caste in "rich, authentic detail, without self-pity or outrage." Allowing the story to unfold against the complex backdrop of pre-independence India as the protagonist pursues his destiny - migrating to Canada and balancing the good fortune he receives with the societal obligations of his past.
Karam is a character carefully crafted to reveal the nuanced conflict that exists between the tradition of rural mysticism and the bright lights of urban science. His journey through the infancy of a modern Indian educational system, and his eventual realization that great competence also comes with a duty of self-sacrifice, gives this story heart and speaks to the courage of people willing to incrementally change the world through their own daily deeds.
Sohan S. Koonar has written a fast read filled with difficult questions, and created a journey for readers worth undertaking. Karam's Kismet is the kind of book you find yourself contemplating long after you have completed reading it. It's books like this one that allow an author like Koonar to bridge the gap between having a fresh new voice, and having earned the trust of a loyal audience. Karam's Kismet is available now via Amazon and other major retailers or through the author's website along with access to a site blog that offers additional context for the book and Sohan S. Koonar's writing background.