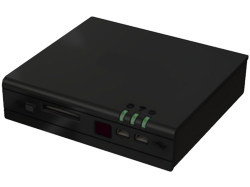 ...an elegant, robust web appliance with no administrative burden, compact and reasonably priced.
Irvine, California (PRWEB) July 06, 2012
IMRON Corporation, a major provider of complete security management systems, announced the debut of their new physical security web appliance, IS1000. IS1000 integrates fully with Mercury hardware, the most popular access control platform in the world. It also integrates seamlessly with popular IP and USB cameras to provide motion-triggered and live video surveillance.
IS1000 was designed from the ground up to be a simple, solid and easy to use device, requiring no other PC or software to be installed. The web interface, available directly from the appliance, is web browser-agnostic, supporting all the major platforms and browsers, including the iPad. From this interface, IS1000 can be used to monitor, configure, and manage up to 64 doors and 250,000 credentials. Upgrading IS1000 to its big brother, IS2000, for larger systems is a simple and natural progression.
IS1000 also offers secure, seamless cloud integration, providing notifications, remote support, cloud backups, and software updates. IS1000 is thus enhanced using the cloud, eliminating administrative headaches, but without making the Internet a point of failure for critical management and physical security functions.
IS1000 can be connected to the LAN/WAN via Ethernet as well as WiFi, and Mercury sub-controllers can be connected directly to IS1000 via the RS-485 bus.
"I'm extremely excited to see this product on the market," said David Weinfeld, Vice President of IMRON Corporation. "It sets a new standard in physical security as far as ease of setup and ease of use, combined with industry-leading hardware, and solid cloud integration. It concentrates on and delivers the essentials of access control and video. The result is an elegant, robust web appliance with no administrative burden, compact and reasonably priced. I am particularly impressed with the ability to expand to an enterprise level system without replacing any hardware."
IS1000 is the only physical security product on the market today offering such a full range of features in a single web appliance: WiFi, Ethernet, and USB communications, industry-leading access control hardware as well as video, cloud support, and an easy upgrade path to IS2000 for managing multiple sites.
ABOUT IMRON Corporation
Founded in 1997, IMRON Corporation is a major provider of complete Security Management Systems directly through its worldwide network of Authorized Integrators and brand name manufacturers. Early success by large-scale facilities integrating separate manufacturers' systems led to integration solutions for OEM brand dealer groups. Today, IMRON provides a range of products for the Security and Access Control markets.