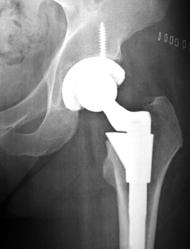 Searcy Denney currently represents numerous patients with failed Rejuvenate Hip Implants. Learn more at http://www.rejuvenatedefectattorney.com
West Palm Beach, Florida (PRWEB) July 06, 2012
On July 4, 2012, Stryker posted on it's website notification that it had recalled its Rejuvenate and ABG II Hip Implant System.
For months, Searcy Denney has been receiving inquiries from patients who suffered failed Rejuvenate hip implants. Most troubling about the client stories is that their hips had failed so quickly with most failing in less than a year and a half. Virtually every patient's implant failed due to heavy metal toxicity caused by the implant.
This rash of client inquiries prompted Searcy Denney to investigate the Stryker Rejuvenate system. According to our investigation, unlike the design of several metal on metal hip implants that have been linked by the FDA and medical community to metal poisoning related failure, the Rejuvenate implant is a multi-piece device that typically employs a ceramic on plastic bearing surface. At first blush, there was no explanation for patients with a ceramic on plastic bearing surface to suffer from metal poisoning related failure. However with the assistance of metal and orthopedic experts, our investigation has revealed that the Rejuvenate design does, in fact, have metal parts bearing on other metal parts. The device's modular design requires that the metal femoral neck be inserted into the metal femoral stem. In the typical hip implant the femoral neck and stem are one piece. Learn more at
http://searcymasstort.com
According to experts retained by Searcy Denney, the femoral neck/stem metal on metal junction is under tremendous stress and force after implantation. When the patient moves, micromotion occurs at this junction causing these metal parts to rub together. This grinding motion causes the metal to erode or fret. The metal "cast off" enters the soft tissue, bone and fluid surrounding the device. These metals, cobalt, chromium and titanium are toxic to human tissue. Cited by Stryker as a contributing reason for the recall was the incidence of metal related soft tissue necrosis, muscle injury, pseudotumor formation and ultimate premature failure.
The Rejuvenate implant was cleared by the FDA in 2008. It entered the market in 2009. Said Brenda Fulmer of Searcy Denney, "This is likely one of the fastest recalls of a major hip implant in history. The recall was motivated in part by more than sixty adverse event reports already on file with the FDA's MAUDE adverse event reporting system." In addition Searcy Denney clients have related discussions with their doctors who have said that they personally contacted Stryker executives to complain about the device's high revision rate.
According to Cal Warriner, a shareholder with Searcy Denney, "The orthopedic device manufacturing community is still reeling from the metal on metal bearing surface disaster. The failure of Stryker's flagship modular, non-metal on metal device is yet another blow. Thousands upon thousands of patients have now been forced to undergo painful revision surgery to remove hip implants caused by metal poisoning. Patients with Rejuvenate hips who require revision face a much rockier road than those with failed metal on metal bearing surfaces like the DePuy ASR that was previously recalled."
According to orthopedic surgeons who have revised Rejuvenate patients, surgery to repair a DePuy ASR patient's failed hip only requires the surgeon to remove the acetabular cup and the metal ball and replace them with new components. Rejuvenate patients with failed devices must have the femoral stem removed. That is the part of the device that is driven into the femur (long bone in the thigh). Femoral stems are designed so that they tightly adhere to the femur and once impacted into place they are permanent. Removing the femoral stem is very traumatic and carries significant risk of femur fracture.
Because of Searcy Denney's experience in drug and medical device cases, we anticipated this recall. Information regarding Stryker's recall and the Rejuvenate product can be found at http://www.rejuvenatedefectattorney.com. Testing of patient's explanted devices is underway. For Rejuvenate victims interested in learning more about their rights, Brenda Fulmer and Cal Warriner are informed and prepared to discuss your issues in a complimentary, confidential consultation.