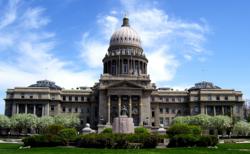 Boise home prices are at historically low price points, but climbing quickly... offering an unprecedented opportunity for Idaho home buyers.
Boise, ID (PRWEB) July 05, 2012
The Brookings Institution's recently released Metro Monitor for the Boise City- Nampa, ID metropolitan area places Boise at the top spot in the nation for increasing home prices. Rankings are for the 100 largest U.S. metropolitan areas based on economic data for the first quarter of 2012. Boise home prices were the highlight in a broader mix of economic indicators in which the Boise area ranked as the #6 metropolitan area in the United States for overall economic recovery performance.
Are the short term rising home prices indicative of a sustainable housing recovery for Idaho real estate? The question remains unanswered for the moment as underlying factors necessary for a broader economic recovery appear a bit tenuous for this up and coming midsize capital city.
Deseree Dewey, from the StartPackingIdaho.com real estate team in Idaho, while enthusiastic about the national press that the Boise housing market is receiving thus far in 2012, is still "cautiously optimistic" about the longer term impact of today's frenzied real estate market activity. Deseree reminded us that "Boise home prices are still 40 percent below their 2006 peak and that a longer term trend needs to be established before we can consider Idaho's real estate market to be healthy again." Deseree pointed out that "A sustainable & vibrant long term real estate market in Boise will require additional improvement in Idaho employment numbers and a continuation of the growth in migrating residents to Idaho which is already underway." The Boise metropolitan area while gathering strength on the employment front, comes in at a somewhat less than definitive #58 on the Brookings scale of employment for the top 100 U.S. metro areas.
Where are all the Boise Idaho real estate buyers coming from? U.S. Census Bureau data shows that Idaho outpaced the national average rate of growth with a population growth of 20% in the past decade. Boise is a destination city for relocating home buyers from throughout the United States who are often seeking a lesser populated state with a higher quality of life. Migration throughout the U.S. has slowed dramatically with the decline in economic conditions. Idaho has historically drawn its biggest in-migration of residents from California. IRS data confirms that with the shifting economic conditions of the past 5 years, the state of Washington has surpassed California as the single largest source of incoming new residents. After Washington and California, Utah weighs in at the #3 source of Idaho in migration followed by: Oregon, Nevada, Arizona, Texas, Montana, Colorado and Wyoming.
(Full List -Number of Residents from Each State Relocating to Idaho)
Signs of a housing recovery are indeed emerging in Boise, Idaho (Ada County) with both home sales and prices gathering momentum in 2012. Intermountain MLS statistics report an increase in sales of Ada County Single family homes of 9.12% y.t.d. through the end of May. The median price of Boise homes sold in May 2012 was $179,900 and climbing. The positive long term outlook for Boise's real estate market may not be completely assured just yet, but there are rapidly growing indications that Idaho will be among the leading states in a broader U.S. housing recovery.
StartPackingIdaho.com is a leading Idaho real estate and new construction resource site providing innovative home search capabilities and industry information for Boise, Eagle, Meridian, Nampa and surrounding areas. (Another Hughes Real Estate Group Internet Resource Center)